A Reckoning for Healthcare Professionals: Should They Be Activists, Too?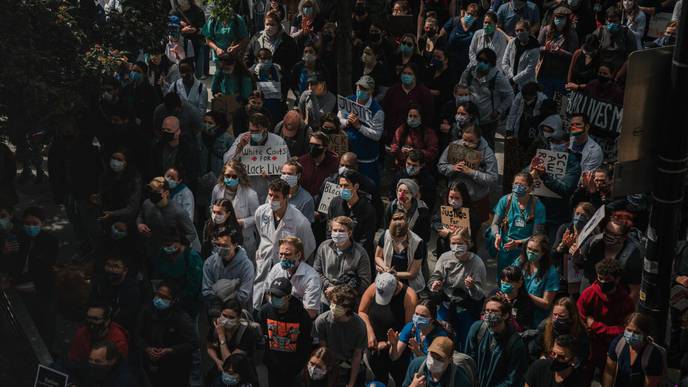 06/17/2020
Photo: Jovelle Tamayo
Amid the dual crises of a global pandemic and a reckoning with systemic racial injustice, health workers and health educators are grappling with a momentous question that hovers between personal and professional: how much of an activist should a health care worker be?
Doctors, epidemiologists, and nurses are increasingly abandoning their characteristic reticence in favor of direct advocacy. They raised early alarms, in op-eds, and on cable news programs, about the disproportionate toll the COVID-19 pandemic was taking on communities of color. In the wake of the killing of George Floyd, the activism has intensified: they are circulating petitions, ramping up educational outreach, and organizing sit-ins to fight police brutality and systemic racism. They are joining marches and organizing their own; more than 10,000 health care workers donned their white coats and scrubs to march through downtown Seattle to show their support for the Black Lives Matter movement.
This outpouring of activism is the most visible manifestation of years of stirrings among health care workers — particularly younger members of the profession — to speak out more publicly on behalf of their patients and the societal ills that shape those patients' health needs. It's a marked departure for an industry that has long implied that doctors should not play a role in social justice movements, in the name of "objectivity" — and may be an uncomfortable sea change for some in the profession.
In interviews, more than a dozen activists who work in health care told STAT that publicly speaking out against racism was not just vital for society, but also a key part of healing the patients in their care.
"If we, as physicians, are really truly in this profession to heal and to help our communities be healthy, we need to be engaging beyond the doors of the clinic and the doors of the hospital," said Nathan Chomilo, a pediatrician and founding member of Minnesota Doctors for Health Equity.
Edwin Lindo, a lecturer at the University of Washington School of Medicine and one of the organizers of the march in Seattle, said: "I don't even think it's advocacy. I mean, advocacy suggests that you're doing something extra. I actually think this is an obligation of physicians — to do the work that changes the conditions outside of the clinic."
Doctors and other health care workers are taught — and sometimes even required — to keep their beliefs to themselves. Some have argued that medicine should focus myopically on objective observation of biology — disease processes, cellular structures, and symptoms. Speaking out about political causes could undermine a patients' trust in a doctor's medical opinion, or even dampen the broader public trust in science and medicine.
Physicians have some "extra baggage and responsibility" when they engage on any issue in the public sphere, said Ford Vox, medical journalist and commentator who also practices brain injury medicine.
"You're speaking not just for yourself, but to some extent for the profession as a whole, and that it is theoretically possible for folks to do something that demeans what it means to be a physician," he said. "It's quite possible for physicians to get themselves into trouble and do all sorts of things that are out of bounds and bring disrepute not just to them but to the really quite sacred doctor-patient relationship and it is important that you do not violate one code of ethics in order to achieve other aims."
Vox said he thinks speaking out in the current moment is "entirely valid and appropriate," and he hasn't heard of any health care workers stepping out of bounds.
But the "extra baggage" has clearly informed the medical industry's perspective on protests and other forms of activism in the past. In 2011, physicians in Wisconsin were sanctioned by the state medical association for writing doctors' notes to excuse political protesters from their day jobs. And just six years ago, administrators at Brown University threatened medical students with disciplinary actions after they organized a peaceful protest in response to the deaths of Michael Brown, Philandro Castile, and Sandra Bland.
But the health care workers who spoke with STAT said they do not believe there should be a line between provider and activist — especially with respect to social issues like racism, with its massive, well-documented effect on the health outcomes for Black people and other people of color.
"The idea, I think mistakenly so, was that there isn't bias that exists in medicine. It's a neutral playing field," said Estell Williams, a surgeon at the University of Washington and one of the organizers of the march in Seattle. "People are just now understanding or coming to terms with the fact that, you know, that isn't the case."
"To be a part of a clinical response without having serious critical consciousness and political education as the foundation of that clinical response … is to be complicit with oppression and systems of oppression have always, always been a part of medicine because they're a part of humanity," said Michelle Morse, a physician and one of the co-founders of the Campaign Against Racism.
If anything, both Chomilo, from Minnesota Doctors for Health Equity, and Williams, the University of Washington surgeon, suggested the collective power and privilege physicians hold within society is an underutilized force for change.
"Leveraging the title, the position of privilege, the power that I have now, allows me to further elevate the voices of those who are often forgotten because they don't have the MD," Williams said.
Chomilo added: "The fact that we have those two letters after our name means that, for good or for bad, we go to certain tables and people will listen to us more than people who aren't physicians."
This is doubly true, the health care workers said, during a pandemic that has claimed so many Black lives, at such disproportionate rates. The COVID-19 pandemic has thrown the realities of racial disparities within the healthcare system into stark relief, especially for the health care workers on the front lines. Black Americans are dying at nearly twice the rate that would be expected based on their share of the population; in some states, they are dying three times faster.
"We had a public health crisis that exposed a lot of systemic and underlying racist institutions in our society and then it kind of dovetailed right into another public health issue, which is police brutality," said Taison Bell, a critical care and infectious disease physician at the University of Virginia. "Now we're starting to see more directly what these connections are, and the profound impact it has on the Black and Brown community."
There are early signs, too, that the institutions of medicine — medical schools, hospitals, trade associations — are beginning to change with them.
The American Medical Association, for example, did not issue a statement in 2013, when George Zimmerman's acquittal for the shooting of Trayvon Martin inspired the launch of the Black Lives Matter movement, or in 2014, when Michael Brown's shooting sparked protests in Ferguson, Missouri and around the country.
In the wake of George Floyd's death, however, the AMA issued a statement condemning police brutality and organized a series of discussions around health equity and how police brutality detrimentally impacts the health of Black communities.
Unlike in 2014, Brown University's dean of medicine signed onto the university president's note of support for the Black Lives Matter movement. And in Seattle, alongside the march that drew thousands of health care workers who wanted to affirm their support for the Black Lives Matter movement, several major University of Washington health and science schools — the schools of medicine, of pharmacy, of dentistry, of nursing, of public health, of social work — publicly offered their support, too.
Many of the activists, however, said the institutions of medicine still have a long way to go to combat the racism inherent in the medical field. Black Americans have been discriminated against in nearly every aspect of medicine, from medical schools to hospital jobs and even in their acceptance at major medical organizations like the American Medical Association.
Physicians and other advocates have called on hospitals to directly dismantle the systemic racism within their own walls, through training programs and comprehensive diversity initiatives for hiring and promotion. They've called on medical schools to distribute reparations as recompense for their role in perpetuating slavery. And medical students, too, have pushed for a more robust curriculum that implements anti-racism training and centers health equity as a foundational framework, through organizations like the Student National Medical Association.
We need to "look within our institutions, beyond just implicit bias and beyond just recognizing, like, 'I need to do the work of anti-racism,'" first-year medical school student LaShyra Nolen said. "But also looking at, 'How do we change the structures that we had in place that are extremely problematic and harmful to black people, patients in our communities?'"
The activists who spoke with STAT emphasized that their fight is also about broader, structural changes to society. They also want to lend their voices to combat the social problems shaped by systemic racism — housing insecurity, food deserts, air, and water pollution — that have contributed to the long histories of racial violence endemic to law enforcement and medical institutions alike. In recent petitions, health care workers have asked government officials to redistribute police department budgets and make public statements acknowledging that police brutality and white supremacy should be considered public health issues.
And while much of their activism looks like the anti-racism activism others are engaging in around the world, there are also nontraditional forms of activism for health care workers, too. Many doctors, nurses, and medical students have taken part in training that help them serve as protest medics, rushing to the frontlines to help protesters who've suffered tear gas exposure or dehydration.
Other physicians see their research itself as a way to inform activism. Utibe Essien, a physician and health equity researcher at the University of Pittsburgh, published a paper in May highlighting the lack of comprehensive race, ethnicity, and language data related to COVID-19 testing, infection, and death rates.
At its core, the research underscores the evidence-based facts of the disparity, he said. But just taking on the issue is its own form of engagement, he said.
"If I can put data to those social factors that folks are advocating [for], I think that that's kind of the lane and the role that I'm hoping to play," Essien said.
In some ways, the medical profession has been edging toward activism for some time, even on more political issues. Growing numbers of physicians have come out in support of Medicare for All in recent years, mobilizing rallies and marches in support of a single-payer health insurance system. When the National Rifle Association pressured doctors to "stay in their lane" and not weigh in on issues of gun control, social media exploded with photos of health care workers treating victims of gun violence in a digital protest centered on the hashtag #ThisIsOurLane.
Much of the push toward activism has come from a younger generation of doctors and medical students. White Coats for Black Lives sprung out of student protests at medical schools in 2014, and other student groups, including the Student National Medical Association, which have facilitated workshops to train physicians to be more socially conscious and culturally competent, according to president Osose Oboh.
That has put medical schools at the forefront of the debate — and at the center of calls to improve the medical profession's understanding of racism.
Tomás Díaz, an emergency physician at the University of San Francisco, said many medical students spend more time studying rare diseases than broader, systemic factors that impact many more people.
"Racism is a chronic exposure that is affecting a huge number of people, just in absolute terms, so the idea that it's not something that we should be studying seems silly to me," Díaz said.
And while medical schools have begun to include course offerings around the social determinants of health, health justice courses are mainly student-led electives with no institutional support nor funding, according to Jennifer Tsai, a physician and a founding member of the White Coats for Black Lives national chapter.
"If it became very clear that a medical school as an institution required educational reform around something like biochemistry or anatomy, they would never ask a group of first-year medical students to be tasked with the job of reforming that education, designing curriculum and implementing it with no other institutional resources," Tsai said. "But yet that is what happens across the nation when it comes to issues of policy, equity, racism, racial equity, transgender health, women's health."
Díaz also cautioned that medical schools — even the institutions of medicine alone — could not do all of the work to address inequity in health care.
"If some students' first exposure to learning about racism, in a very real way, is in medical school, it's already too late," he said. "Ultimately, solutions out of the field of medicine are not going to be sufficient."
For Essien, the health equity researcher at the University of Pittsburgh, that's precisely why health care workers' activism is so important — to make it clear how deep an impact racism has had on American health care and to try to be part of the solution.
"I don't know what moment will come from the death of George Floyd. I don't know what moment will come from the COVID-19 crisis," he said. "But I think that there is a good and big opportunity for us to expand the message towards our colleagues that this is not just a one and done moment, that this is the moment for us to truly take social justice and health seriously, and more importantly, really try and stamp out health disparities in our generation."