As Return to Play Looms, Many Athletes Face Mental Hurdles Too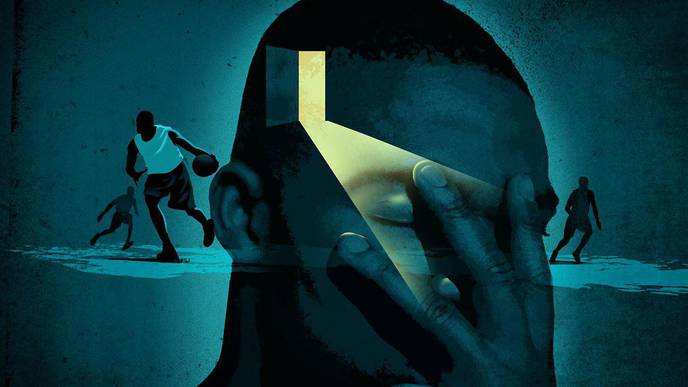 06/08/2020
Credit: Daniel Marsula/Post-Gazette
Penguins defenseman Brian Dumoulin doesn't really care when or where the NHL decides to hold its postseason. He's ready.
"If we're playing in my driveway, that'd be fine with me if we're playing for the Stanley Cup," he said.
As most major professional sports leagues inch closer to return, however, not everyone necessarily feels the same way.
Sure, there's the argument over compensation, which has become a sticking point in Major League Baseball. But this goes beyond money signs. In a world with a novel coronavirus that researchers are still trying to learn more about, some players in various leagues have legitimate health concerns about what would happen if they contract COVID-19 or pass it on to someone at home who is at risk.
That's especially true for those with preexisting conditions. Cleveland Cavaliers forward Larry Nance Jr., for example, has Crohn's disease and uses a therapy that suppresses his immune system. He told ESPN that his hope would be "if someone didn't feel comfortable coming back that you'd get a pass."
Penguins star Kris Letang, who suffered a stroke in 2014, had questioned whether his medical history might increase his chances of a bad outcome should he contract the virus, considering COVID-19 has been found to cause strokes in otherwise young and healthy individuals.
"I had my fair share of questions," Letang said last week. "They've all been answered. Certainly, I can say I'll be safe to play."
Toronto Maple Leafs winger Mitch Marner expressed his concern for Montreal Canadiens forward Max Domi, who has Type I diabetes, another preexisting condition that possibly could put him at greater risk should he contract the virus.
"What if someone gets sick and dies? It's awful to think about, but still," Marner said. "There's dudes like [Max] Domi who has diabetes. If he gets it, he's in [a predicament]."
While athletic trainers are worried about more arm injuries in baseball or groin injuries in hockey because of the disruption to the training schedule, there are also a host of mental challenges. To address this side of the equation, the Post-Gazette spoke to some mental wellness experts from Allegheny Health Network and UPMC, as well as a sports psychologist, to discuss some concerns athletes of all ages might have and advice they'd give players before they jump back into action.
Let's first back up for a second. When the sports world came to a halt in mid-March, it created a new normal that few could have imagined. Suddenly, college athletes who are used to balancing conditioning, classes, and practices had some extra time on their hands. Maybe too much.
"Our brain's general default mode is to think," said Kristen Mackel, who is part of Pitt's embedded mental health team working directly with college athletes. "And so now we have a lot more time to do just that."
Mackel said that "worrying about worrying" is a common theme when she talks with Pitt athletes.
"There's a lot of fear and anxiety which comes with uncertainty," she said. "What does the future look like? What does sports look like? Is my career over? What could I have done or what would I have done, if I'd have known that was my last time doing X, Y, and Z?"
Recognizing that this may be a difficult time for athletes and some might be reluctant to reach out, Mackel said she's been "reaching in" to talk to teams of Pitt athletes. Some of the things she's emphasizing are "controlling what you can control," creating a routine, staying connected to teammates, and remembering their identity goes beyond just the sport that they play. She's also been encouraging athletes to think about the way they're talking to themselves.
"Are you kind of cheerleading yourself to be resilient and hunt the small wins?" she said. "Or are you kind of ganging up and beating up on yourself?"
Likewise, Allegheny Health Network Behavioral Health Institute partnered with the AHN sports medicine team to launch "CHILL for athletes," a virtual-based initiative that provides mental health counseling and support primarily for student-athletes. Dr. Will Davies serves as the program manager of CHILL, and Cindy Everett is the clinical supervisor.
"This is a tough transition for everybody," Everett said. "Athletes, in particular, are just facing a lot of challenges right now. There's this idea of mental toughness, which I think is great. But I think that sometimes that acts as a barrier for athletes getting the support that they need. Our goal is to be there as an extra layer of support for athletes and teams."
Everett said the current pandemic may be causing a number of concerns. Motivation might be a challenge. Also, for an athlete who also is used to spending a significant chunk of his or her life on the field, it could also challenge their identity when that's taken away.
"A lot of an athlete's goals are wrapped up in being an athlete," Everett said. "Right now, what could be helpful is to take this time to refuel and refocus. Thinking about their goals, are there ways of training or preparing for those goals in a nonconventional way that they maybe aren't used to?"
Weight lifting equipment, teammates, and even a playing surface like ice might be hard to come by. But some of those unconventional ways of training might focus on the mental side of the game.
"You need to do some imagery," said John F. Murray, a sports psychologist who has worked with NFL and NHL players. "You need to do some goal-planning. You need to do more film-watching. There's a lot of mental things you can be doing. ... I think what's going to happen is the Jerry Rices of the world are going to adapt and come out and be just fine, and some others are going to come out and just be lost. They really do need to be training their minds."
So what happens when the time comes to get back on the playing field? Murray said that, by their nature, many athletes are used to dealing with risks. He points to a sport such as football, where those in the NFL already are living and playing with the constant risk of concussions or other major life-changing injuries.
"There are a lot of other factors that are a hell of a lot more scary than a virus," he said. "To be honest, the bottom line is, I don't think it's going to throw these people off their games. I think they're going to go for it either way beyond their fears."
But just because an athlete performs on the field doesn't mean he or she isn't feeling uneasy. Even those who think they are ready may encounter some unexpected challenges after being holed up inside for months.
"Even just going out of the house can cause significant anxiety," Davies said. "Going to the grocery store can cause anxiety."
Davies said he'd recommend athletes begin to have conversations with their families early about the possibility of being away for an extended period of time. Then, rather than going directly from watching "Tiger King" on the couch to a playoff hockey game in a new city, Davies said one strategy to help the transition would be to have a team do an activity together in the community.
"Maybe there's opportunities to incrementally allow the team to have exposure in the community," he said. "Create some space for the team to talk about it as a group. How it feels to come back out into the world a little bit."
While the thought of being away from home or putting loved ones at risk can be overwhelming, Mackel said she'd suggest players not worry about all the possibilities right now. Instead, she said it could be helpful to wait until they have all the information regarding a return to play before making a decision.
"When we start to think about all the things are out of our control, then life feels out of control," she said. "Usually when things feel big, we're really quick to dig our heels in or to kind of say, 'Nope, not doing that.' So maybe take a breath. Take a beat to give the situation some time to breath and see what exactly are your options when they're presented to you, as opposed to just kind of panicking or worrying about the hypotheticals."
Eventually there will be a time when players have to ultimately draw a line in the sand and make a firm decision. Are they playing, or are they not?
"Think about both the benefits and the negatives, and then what might be the realities of the situation?" Mackel said. "If I'm choosing to continue to play because that's my livelihood, OK, what are the contingencies? Plans for that. If I'm choosing to not play because of personal reasons? OK. What are the contingencies? And how do I plan for that?"
"Talking it through with your support system, I think is a really big help," she said. "Because a lot of times we feel like we're the only ones having to make these decisions. And yet, we're not."
No matter if someone has to hit a 95 miler-per-hour fastball, stop a Sidney Crosby one-timer or just get dinner on the table while balancing a 9-to-5 job, Davies said he believes it's important to normalize the feelings and understand that it's OK to worry about the health, safety and financial security of loved ones.
But he also thinks those discussions should be balanced with mindfulness and "some of the other skill-sets that we teach."
"Even though there is a significant pandemic happening, which is an incredible disruption in everybody's lives, we can still take the time to treasure the current moment because really, that's all we have at the end of the day," Davies said. "Try to live in this moment. Appreciate the small things, be grateful for what we do have and try to keep a positive attitude."