Eating Fast Food Linked to Potentially Life-Threatening Liver Condition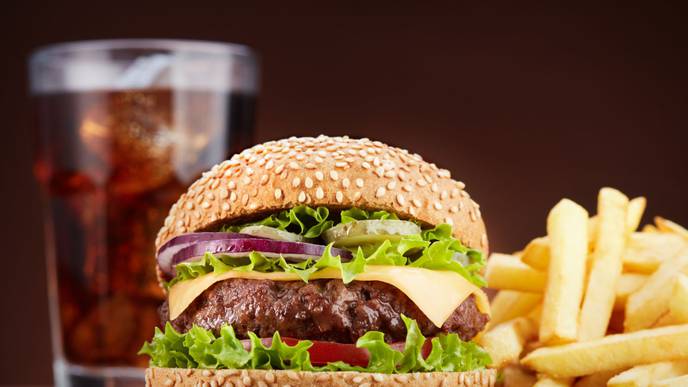 01/13/2023
A new eye-opening study on the negative impact of eating fast food may be another good reason if you've been considering skipping the drive-thru for healthier options.
A peer-reviewed study from Keck Medicine of USC published in the Clinical Gastroenterology and Hepatology journal has found that consumption of fast food is associated with a potentially life-threatening condition of non-alcoholic fatty liver disorder (NAFLD).
"Our findings are particularly alarming as fast-food consumption has gone up in the last 50 years, regardless of socioeconomic status," said Ani Kardashian, a hepatologist and lead-author on the study.
Those examined in the study who consumed fast food as one fifth of their daily calories were found to have severely high levels of fat in their liver compared to those who consumed less or none at all.
Even those who consumed a relatively modest amount of fast food can experience harm to the liver, the study found.
The researchers analyzed recent data from the 2017-2018 National Health and Nutrition Examination Survey, the largest annual nutrition survey in the U.S., in order to determine how eating fast food can impact liver steatosis, which is the condition caused by having too much fat build up in your liver.
Fast food was classified as being from either a drive-through restaurant or one without wait staff in the study, including pizza.
The researchers compared the fatty liver measurements of approximately 4,000 adults in the survey to their consumption of fast food and found that 52 percent of those evaluated consumed fast food.
Of this group, 29 percent consumed 20 percent or more of their daily calories from fast food. This percentage of people was the only one in the survey to show a rise in liver fat levels.
The prevalence of the fast food and liver steatosis link was true for both the general population and for those with obesity or diabetes, even after data were adjusted for other factors such as age, sex, race, ethnicity, alcohol use, and physical activity.
While there have been other studies linking fast food and obesity, this is the first of its kind to find the impact on liver health, according to Kardashian.
Fat intake should comprise less than 30 percent of one's daily calories and it in order to improve NAFLD, it is essential to consume anti-inflammatory foods rich in mono- and polyunsaturated fatty acids, according to another study.
Foods such as avocadoes, nuts, and fish are some of the foods high in these beneficial fatty acids.
The researchers hope that these findings encourage healthcare providers to offer patients more dietary education in the future to those at a higher risk of developing NAFLD from fast food, such as those with obesity or diabetes