This Fall Could Be One of the Worst the US Has Ever Faced, CDC Directors Says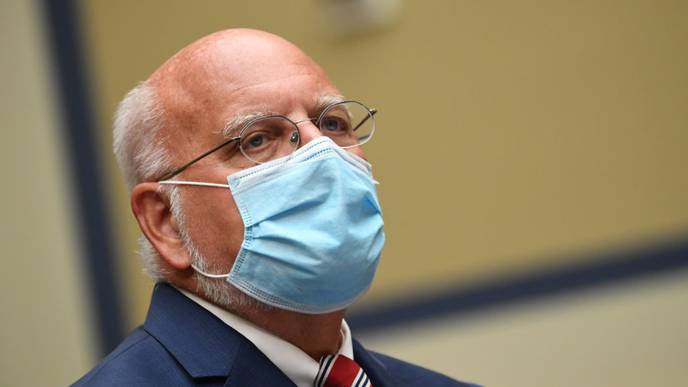 08/14/2020
Photo: Kevin Dietsch/Pool/AFP via Getty Images
We are in a war against COVID-19, and this fall could be one of the worst from a public health standpoint that the U.S. has ever faced, says CDC Director Robert Redfield, MD.
The surging coronavirus pandemic, paired with the flu season, could create the "worst fall" that "we've ever had," he said during an interview on "Coronavirus in Context," a video series hosted by John Whyte, MD, WebMD's chief medical officer.
Redfield also said the agency's efforts to understand the virus were hampered by a lack of cooperation from China.  He reached out to China CDC Director George Gao on Jan. 3 to see if the agency could work with health officials in Wuhan to better understand the outbreak. But he never received an invitation, Redfield said.
"I think if we had been able to get in at that time, we probably would have learned quicker than we learned here," Redfield said.
Now as fall approaches, the outbreak's severity will depend on Americans following CDC guidelines to prevent the spread of COVID-19: wearing face masks, staying 6 feet away from others, washing hands often with soap and warm water, and being smart about crowd gatherings.
"I'm not asking some of America to do it -- we all have to do it," Redfield said. This is one of those interventions where 95% to 99% of people have to do it for it to work, he said.
When asked what the pandemic could look like by Thanksgiving, Redfield invoked the opening of Charles Dickens's classic novel A Tale of Two Cities.
"It's dependent on how the American people choose to respond," he said. "It's really the worst of times or the best of times, depending on the American public. I'm optimistic."
Those same precautions could reduce the transmission of the flu. Worldwide, the flu is at "lower levels than expected for this time of the year," the World Health Organization reports in its latest influenza update. Hand hygiene and social distancing have played a role, the WHO says.
Redfield urged Americans to add a fifth precaution to their fall to-do list: Get a flu vaccine. Last year, about 47% of Americans got one, he said. This year, the CDC is aiming for 65% compliance. The annual flu season also stresses hospital resources, and the pandemic will strain them even more. Redfield said the CDC has purchased millions of extra doses to distribute this fall to reduce the number of cases.
"Please don't leave this important accomplishment of American medicine on the shelf," he said. "This is a year that I'm asking people to really think deep down about getting the flu vaccine."
Optimism About a COVID Vaccine
Redfield said he is "very cautiously optimistic" about having a coronavirus vaccine before the end of the year. Six vaccine candidates are "moving forward extremely rapidly," he said. Three vaccines began phase III clinical trials 2 weeks ago. He expects a fourth to begin the final stage of trials soon. The final results of those trials may be available by the end of October or beginning of November.
"No one can predict scientific success, but we think from a scientific threshold, developing a COVID vaccine is not as complex as … an HIV vaccine," he said. "I'm very optimistic that we're going to have one or more vaccines available."
The phase III trials are still recruiting tens of thousands of participants, which Redfield expects will be completed by the end of September. Unlike other typical clinical trials, the COVID-19 studies are accepting older patients and people with chronic conditions such as diabetes or heart disease. Children haven't been included in trials so far -- that will require a companion trial later, he said -- but researchers are focused on adults who face the highest risks of severe disease.
"There will have to be follow-up trials for children under the age of 18," he said. "But clearly there's a comprehensive trial right now that will accommodate the people that are either most at risk because of comorbidities and age or at risk because of their jobs."
COVID-19 Still Highly Infectious
Redfield highlighted the fact that "we don't really know this virus very well." SARS-CoV-2, the virus that causes COVID-19, is unlike other coronaviruses such as SARS or MERS that don't spread as rapidly between people.
At the beginning of the pandemic, the first cases in the U.S. appeared to spread among family members who had close contact with each other. But as the cases spread in communities across the country, CDC experts began to fully understand how quickly the virus was moving.
"The thing that surprised us the most was how infectious this virus is," Redfield said.
The other "critical hallmark" of this new coronavirus is the large volume of spread by people under age 50 who have the virus but don't show any symptoms, he said. More than 5 million cases have been reported in the U.S., and the CDC estimates that the spread of infection was several times higher. More than 20 million people likely contracted the virus between March and May, he said.
The U.S. has recorded more than 160,000 coronavirus deaths so far, and COVID-19 will end up as one of the leading causes of death this year, Redfield said. In April and May, about 20% of deaths in the U.S. were caused by pneumonia, the flu, and COVID-like illnesses. Mortality rates are declining, he said, because the disease is diagnosed sooner and doctors have learned how to better manage patients in hospitals.
For the rest of 2020, the key is to focus on the steps that people can take to lessen the effects of the coronavirus, he said.
"Eventually, this virus is going to have its day," he said. "It's either going to infect a majority of the global population, or we're going to have a biological countermeasure that's going to be an effective vaccine."