IBD & Rheumatic Diseases Overlap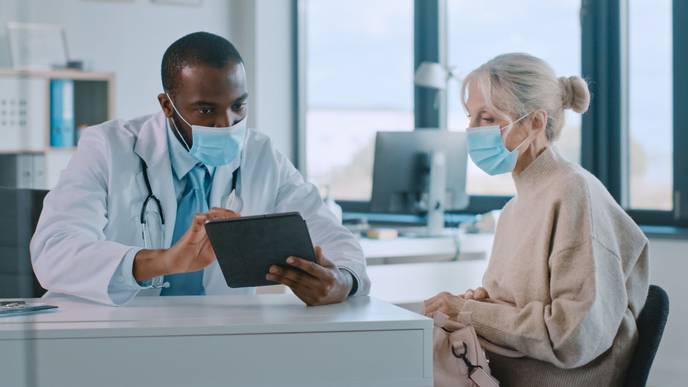 01/24/2023
DENVER -- Nearly one in 10 patients with inflammatory bowel disease (IBD) also have rheumatologic disorders, meaning that specialists have to talk to each other to develop a treatment plan that works for both conditions, a researcher suggested here.
Of 228 IBD patients treated in the clinic, 9.2% had rheumatologic manifestations, reported Mohamad Almujarkesh, MD, of Detroit Medical Center/Wayne State University, in a poster presentation at the Crohn's & Colitis Congress.
"In the outpatient clinic, the most common rheumatological disorder is ankylosing spondylitis -- something we expected," said Almujarkesh.
Overall, 7.9% of the patients identified in the Wayne State database had ankylosing spondylitis and 1.3% had rheumatoid arthritis. Most patients were seen by specialists in both gastrointestinal and rheumatology clinics.
What these findings mean, Almujarkesh said, is that "gastroenterologists and rheumatologists should be vigilant to identify the co-existence of these conditions and follow-up with these patients in combined clinics to better patients' symptom outcomes."
The researchers also sought to determine if the disease pattern in their database was similar to what was observed in the National Inpatient Sample (NIS) database, in hopes of further characterizing the overlap in the conditions.
In this analysis of over 65,000 inpatients with IBD, concurrent rheumatologic manifestations were identified in 6%, with similar proportions seen between ulcerative colitis and Crohn's disease. Rheumatoid arthritis was most common, at 3.3%, while ankylosing spondylitis was present in fewer than 1% of the inpatients.
In commenting on the study, Syed Adeel Hassan, MD, of the University of Kentucky in Lexington, told MedPage Today that IBD specialists should refer patients with these dual conditions for regular follow ups with rheumatology and work "in sync" to come up with the best therapeutic combinations.
"We should also better educate such patients about the importance of following up with rheumatology," he added. "Inflammatory bowel disease patients with extraintestinal disease involving the joints require a careful, holistic, and multidisciplinary approach, and that teamwork between gastroenterologists and rheumatologists is imperative for the optimal selection and dosing of agents to help address two birds with one stone."
Hassan, who was not involved in the study, noted that clinical management of these patients can be a complicated task. In patients with well-controlled IBD with biologic therapy, persistence of joint symptoms may require a tweak to their IBD-directed treatment.
"This puts them at a risk of experiencing a flare or their disease becoming active again while attempting to address the joint pain," said Hassan. "Additionally, many patients also face issues with insurance approvals for adding on a second biologic agent in these circumstances. This further adds to the rising healthcare costs for these patients."
For their study, the researchers reviewed the 228 clinic patients treated at Wayne State in 2018. The vast majority (95%) had Crohn's disease, more than half were female, and about three-fourths were African American. The average age at IBD diagnosis was 28.
Most of the IBD patients with overlapping rheumatologic conditions were seen in both gastrointestinal and rheumatology clinics, three had internal medicine and rheumatology clinic visits, and two were only seen in the rheumatology clinic. Twelve of the patients were being treated with biologics, six were on immunomodulators, and three did not have treatment plans in their records.
In the NIS database, the researchers identified 65,379 IBD patients with rheumatologic manifestations, including 38,962 with ulcerative colitis and 22,552 with Crohn's disease. Over 80% were white, 10-15% were African American, and 7-10% were Hispanic. Of these, 3.3% had rheumatoid arthritis, 1.35% had psoriatic arthritis, 0.55% had ankylosing spondylitis, and 0.09% had polyarthritis unspecified. Treatment information was not available in the NIS.
As many as 30% of IBD patients complain of joint-related issues, said Hassan.
"The tricky part remains to identify if the joint pains are occurring as an extra-intestinal manifestation of inflammatory bowel disease, side effects to therapy, or if there is an underlying concomitant joint disease," he said. "This stems from the fact that both inflammatory bowel disease and rheumatoid arthritis are autoimmune conditions that arise due to the influence of environmental and genetic factors that may be identical between the two conditions."
Ed Susman is a freelance medical writer based in Fort Pierce, Florida, USA.
Disclosures
Almujarkesh and Hassan disclosed no relationships with industry.
Primary Source
Crohn's & Colitis Congress
Source Reference: Almujarkesh M, et al "IBD and rheumatological disease overlap in a predominantly African American clinic population as compared to a national inpatient database" CCC 2023; Abstract P098.