Low-Molecular-Weight Heparin Does Not Improve Live Birth Rates in Women With Prior Pregnancy Losses, Confirmed Inherited Thrombophilia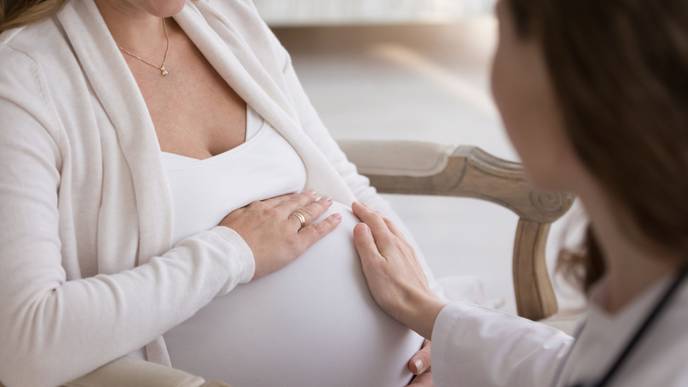 12/16/2022
Compared with standard surveillance, the use of low-molecular-weight heparin (LMWH) was found to not result in increased live birth rates among women who had 2 or more pregnancy losses and who had confirmed inherited thrombophilia, according to investigators of the ALIFE 2 trial presented in a late-breaking abstract at the 64th American Society of Hematology (ASH) Annual Meeting and Exposition.1
"Late-breaking abstract 5 focuses on the intersection of hematology, maternal health, and pregnancy outcomes—a major theme at the annual meeting this year," said Cynthia Dunbar, MD, a National Institutes of Health (NIH) distinguished investigator at the National Heart, Lung, and Blood Institute of the NIH, during a media briefing for the ASH annual meeting.2
The open-label, phase 3, randomized controlled ALIFE 2 trial was investigator-initiated and international in scope. The investigators noted that, based on the trial results, they do not advise the routine use of LMWH in women with recurrent pregnancy loss and confirmed inherited thrombophilia. Additionally, they advise against routine testing for inherited thrombophilia in women with recurrent pregnancy loss.1
"Because impaired blood supply and thrombosis in the placenta have been hypothesized to play a role in recurrent miscarriages and pregnancy loss, hematologists and obstetricians for many decades have repeatedly carried out observational and rare randomized controlled trials, asking whether anticoagulation during pregnancy can prevent miscarriages in women with this unfortunate record of prior pregnancy losses," Dunbar said. "In large, completed, randomized controlled trials in unselected women with recurrent miscarriages, anticoagulation has not been shown to be effective."2
Dunbar explained further that ALIFE 2 focuses on the 5% of women who have experienced recurrent pregnancy loss and been found to have specific mutations known to result in an increased risk of venous blood clots, whether or not they are pregnant. The investigators of this trial sought to determine whether women in this specific higher-risk group would benefit from anticoagulation during pregnancy to help prevent subsequent miscarriages, Dunbar noted.1,2
"Unfortunately, the answer again was no. [LMWH] treatments throughout the pregnancies did not improve miscarriage rates," Dunbar said.2
During the trial, investigators in the Netherlands coordinated recruitment in 15 hospitals across the Netherlands, United States, Belgium, and Slovenia. Additionally, investigators in the United Kingdom coordinated 26 sites, including in England, Scotland, Wales, and Northern Ireland. The study protocol was approved by the institutional review boards at all participating international health care centers.1
The study population included women aged 18 to 42 years who had 2 or more pregnancy losses and confirmed inherited thrombophilia (factor V Leiden, prothrombin 20210A mutation, antithrombin, protein C, or protein S deficiency) who were either trying to conceive or were less than 7 weeks pregnant. However, women were excluded if the duration of their current pregnancy was 7 weeks or greater, if they had an indication for anticoagulant treatment during pregnancy, a contraindication for LMWH, a known allergy for LMWH, or previous enrollment in ALIFE 2.1
The study participants were randomly assigned (1:1) to use subcutaneous LMWH once daily, including enoxaparin (Lovenox; sanofi-aventis US) at 40 mg, dalteparin (Fragmin; Pfizer Inc) 5000 IU, tinzaparin (Innohep; Celgene Corporation) 4500 IU, or nadroparin (Fraxiparine; Sanofi-Synthélabo) 3800 IU, vs standard pregnancy surveillance following a positive urine-based pregnancy test. The investigators then started the patients on LMWH at 7 weeks of pregnancy or sooner and continued until the end of their pregnancy.1
During the trial, the primary outcome measured by investigators was live birth rate. The secondary outcomes included adverse pregnancy outcomes such as miscarriage, obstetric complications (premature delivery; preeclampsia; hemolysis, elevated liver enzymes, low platelet count syndrome; and intrauterine growth restriction), and congenital malformations. Further, the investigators noted that safety outcomes included bleeding episodes, thrombocytopenia, and skin reactions to the prescribed study medication.1
The study assessment period during which 10,626 women with recurrent miscarriage were assessed for eligibility was between August 2012 and January 2021; however, most of the women were not eligible due to absence of inherited thrombophilia. Based on the eligibility requirements, 428 women were registered for the trial, among whom 326 conceived and were randomized.1
The investigators then assigned 164 patients to the LMWH group and 162 to the standard surveillance group. The mean age of the participants was 33 years, with approximately one-third being 36 years or older. The majority of participants were also of Caucasian ethnicity (83%).1
Prior to randomization, the median number of miscarriages was 3, with 70% of patients having a history of 3 or more miscarriages. The investigators noted that the most common thrombophilia types were heterozygosity for factor V Leiden (56%), prothrombin 20210A mutation (25%), and protein S deficiency (14%). In 11% of patients, aspirin was given as a comedication.1
In the LMWH group, there were 116/162 (71.6%) live births and 112/158 (70.9%) live births in the standard surveillance group (adjusted OR, 1.08 [95% CI, 0.65-1.78] absolute difference 0.7% [95% CI, –9.2% to 10.6%]). Additionally, adverse events were reported by 39 women (23.8%) in the LMWH group and 37 (22.8%) women in the standard surveillance group.1
Dunbar explained that these trial results are critical because questions around anticoagulation and recurrent pregnancy loss are a significant area of concern for patients. Dunbar noted that questions about pregnancy loss are often the subject of emails she receives in the middle of the night and panicked phone calls from patients throughout the day.
Dunbar explained further that many patients who have experienced a single miscarriage are more likely to worry about potential for future miscarriages, with additional concerns pertaining to age and a "ticking clock" for women over age 30 years.2
"There's a huge emphasis and a huge amount of pressure on obstetricians to basically work up for everything kind of shotgun, focusing on these relatively common mutations that mildly increase the risk of clotting in individuals who aren't pregnant but have a risk of getting deep venous thrombosis; [however,] not to the extent that normal individuals who haven't had clots are anticoagulated with these particular mutations. That's been a major focus for obstetricians and hematologists sending these panels off," Dunbar said. "Then [when] they come back and they're left with 'OK, what do I do with it, the patient wants to do something,' [the patients] often get put on anticoagulation, which can have real risks when you're pregnant."2
Dunbar added that if patients start bleeding, which happens during pregnancies, and patients are on anticoagulation, that can complicate the situation. Further, going through delivery on anticoagulation is not easy.2
"So, while it would be nice if we had an intervention that really could prevent recurrent miscarriages, at least I think this plus the prior study in unselected patients really rules this out as a cause of recurrent miscarriages, at least that we can reverse with the anticoagulants we have now," Dunbar said. "So, I think it stimulates people to go into a different direction and try to figure out what other causes for recurrent miscarriages there can be."2
Dunbar said that it is reminiscent of what happens in patients with COVID-19, for whom physicians may observe blood clots, pathology in the lung, or pathology in the placenta. However, the occurrence of these symptoms is not necessary causal, as they are instead defining a final common pathway when something was going wrong with the tissue that eventually leads to small clots, but it does not mean the clots are causing the problem itself.2
"I think [late-breaking abstract 5] was to me the most interesting and practice-changing abstract [at the ASH annual meeting] for maybe the largest number of people, which is women who had miscarriages, which are many of us," Dunbar said.2
References
Quenby S, Booth K, Hiller L, et al. LBA-5 Low-molecular-weight heparin versus standard pregnancy care for women with recurrent miscarriage and inherited thrombophilia (ALIFE2): an open-label, phase III randomized controlled trial. Presented at: 64th ASH Annual Meeting and Exposition; December 10-13, 2022; New Orleans, LA. Accessed November 30, 2022. https://ash.confex.com/ash/2022/webprogram/Paper171707.html
Dunbar C, Winter JN. 2022 ASH Annual Meeting media preview. Presented as part of: 64th ASH Annual Meeting and Exposition; November 30, 2022; New Orleans, LA.