New CAR-T Cells Target Leukemia Cells Fast, More Effectively, & Repeatedly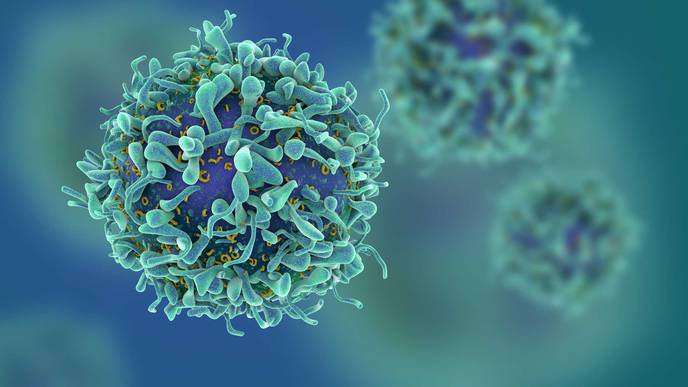 04/01/2020
Photo: Celgene
In CAR-T therapy, a patient's own immune system cells—called T-cells—are isolated and genetically modified to recognize CD-19, a protein (antigen) found on leukemia cells. A few years ago, this exciting new therapy emerged, giving hope to children with persistent disease, for whom no other treatment option had worked. When the T-cells were introduced back into patients, their immune systems attacked the cancer.
The FDA approved CAR-T therapy for acute lymphoblastic leukemia (ALL), the most common childhood cancer, in 2017, and children who had run out of options were given hope. It was a revolution in cancer therapy. But nearly half of patients who receive CAR-T therapy relapse with leukemia. The cancer stops producing CD-19, making it invisible to the T-cells. This means the immune system is no longer fighting the disease.
"The cancer got smart," says Hisham Abdel-Azim, MD, MS, an investigator in CHLA's Cancer and Blood Disease Institute. "So we are getting smarter."
A Three-Pronged Attack 
Dr. Abdel-Azim collaborated with Nabil Ahmed, MD, MPH, a clinician and investigator at Texas Children's Hospital and Baylor College of Medicine, to engineer a T-cell that targets three antigens on the cancer instead of one. "It's like using a trident to attack the cancer instead of a spear," says Dr. Ahmed. The team used this three-pronged weapon against leukemia cells and developed a new test to monitor how well it worked.
Their study, recently published in the journal Leukemia, shows that these new CAR-T cells could be the answer to resistant leukemia.
The new CAR-T cells targeting CD-19, CD-20 and CD-22 are significantly more effective than T-cells that target CD-19 alone. "These modified CAR-T cells bind to more cancer cells, and these connections are much stronger," says Dr. Abdel-Azim. "Not only do they bind better, but they are binding again and again." These connections are important because they signal the rest of the immune system to destroy the leukemia cells. More T-cell binding means a stronger fight against the cancer.
A clinical trial will be the only way to truly answer whether this treatment will work in children with resistant disease, but the study shows clear evidence that it works pre-clinically. The newer CAR-T cells targeted leukemia cells faster, more effectively, and repeatedly. This may lead to a treatment for children whose cancer returns following CAR-T therapy.
Team-Science Works
Just like attacking more than one antigen is more effective in the fight against leukemia, so too is combining investigative forces. "Scientific findings like these would not be possible without collaboration," says Dr. Abdel-Azim. These sentiments are echoed by Dr. Ahmed. "I have expertise in solid tumor research whereas Dr. Abdel-Azim is an expert in leukemia, which is a very different type of cancer," he says. Collaboration between scientists with differing areas of expertise can make the fight against childhood cancers more powerful.