Nomogram Predicts Hyperkalemia in Moderate to Severe CKD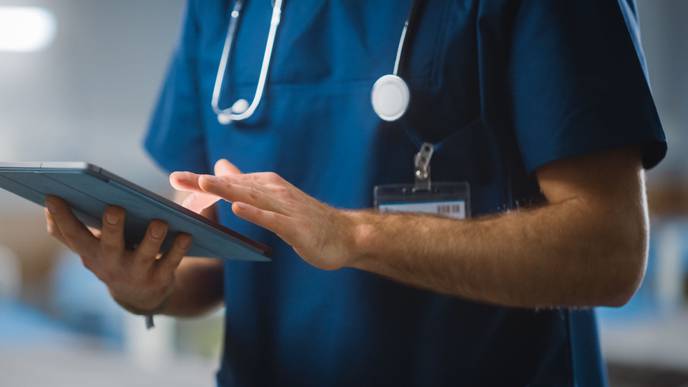 04/19/2023
Investigators have developed and validated a simple nomogram for predicting hyperkalemia within 6 months in patients with stage 3 to 5 chronic kidney disease (CKD) not receiving dialysis.
Among 847 patients with stage 3 to 5 CKD, 234 patients (27.6%) experienced hyperkalemia (serum potassium 5.5 mmol/L or higher) within 6 months. Risk factors that independently predicted hyperkalemia included age 75 years or older, advanced CKD stage, serum potassium elevation of 5.0 mmol/L or higher in the previous 3 months, and comorbidities including heart failure, diabetes, or metabolic acidosis, corresponding author Zhiguo Mao, MD, of Shanghai Changzheng Hospital, Second Military Medical University in Shanghai, China, and colleagues reported in Kidney360.
The investigators created a nomogram based on these risk factors as well as use of renin-angiotensin-aldosterone system (RAAS) inhibitors. The C-statistic was 0.76 for the training set and 0.73, 0.88, and 0.82 for an internal validation set and 2 external validation sets, respectively. Calibration curves and decision curve analysis all found that the nomogram performed well, according to Dr Mao's team. Using the nomogram was more beneficial than any single factor alone or a "treat all" or "treat none" approach. The risk factors included in the model contribute to hyperkalemia by a variety of mechanisms.
---
Continue Reading
Hyperkalemia is associated with worse prognosis, arrhythmia, and early death. The investigators suggested patients with stage 3 to 5 CKD at high risk of hyperkalemia according to the nomogram may benefit from intensive monitoring and early triage.
The nomogram is not suitable for patients with stage 1 or 2 CKD or those on dialysis, according to the investigators.
Reference
Xue C, Zhou C, Yang B, et al. A nomogram to identify hyperkalemia risk in patients with advanced CKD. Kidney360. 3(10):1699-1709. doi:10.34067/KID.0004752022