Review Finds Insufficient Evidence Supporting Corticosteroid Irrigation for CRS with Nasal Polyps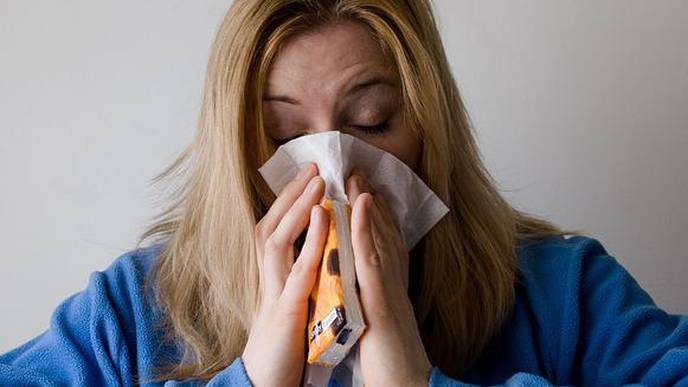 10/13/2022
Photo: Pixabay
Treatment of chronic rhinosinusitis (CRS) with nasal polyps frequently includes topical corticosteroid therapy, intranasal corticosteroid sprays, and sinus surgery, but some patients turn to off-label use of corticosteroid irrigation (CSI) if the approved therapies fail to alleviate their symptoms. However, a new review published in Annals of Allergy, Asthma, and Immunology determined that there is a lack of sufficient evidence to definitively recommend the use of CSI.
The authors of the review noted the serious detriments on quality of life that are associated with CRS, as well as the high proportion of patients reporting inadequate symptom relief from intranasal corticosteroid sprays and even sinus surgery. CSI—also called steroid nasal lavage—is used in some patients who have undergone surgery, even though there is no FDA-approved CSI product and no standardized regimen of dosing and administration.
"Nasal irrigation using a large volume of saline solution may penetrate posterior regions of the nasal cavity," the authors noted, whereas the standard intranasal corticosteroid sprays may not actually reach the target areas.
To evaluate the efficacy and safety of CSI for CRS with or without nasal polyps, the authors searched PubMed using relevant key terms up until January 2022. Their search yielded 27 peer-reviewed articles: 19 trials (9 controlled, 10 uncontrolled), 7 reviews, and 1 meta-analysis.
Some studies did find an association between CSI and greater symptom improvement than with intranasal corticosteroid sprays, whereas others found no difference. The authors emphasized that no studies have shown a statistically significant benefit of CSI vs any comparator on a primary end point controlled for type I error.
They also noted that it is difficult to compare the findings of the studies because they used different volumes of solution, doses, and therapeutic agents (budesonide, betamethasone, mometasone), and the protocols for preparation and administration of the CSI also differed. The small sample sizes of most of the studies made it impossible to determine which variables may have induced the clinical effects.
Another concern is that the studies to date have been too small and short in duration to adequately detect adverse effects, the authors wrote. In particular, they noted that the studies in their review yielded conflicting findings about suppression of the hypothalamic-pituitary-adrenal axis associated with CSI.
"The lack of uniformity and quality control for CSI is concerning," the researchers wrote, especially because nasal irrigation with contaminated tap water can be fatal if the water contains Naegleria fowleri.
The shortcomings in the literature represent opportunities for future research, with a particular unmet need for larger clinical trials. Irrigation techniques and methods of assessing treatment response would need to be standardized before study findings could yield enough evidence for the FDA to approve the use of CSI for CRS with or without nasal polyps.
"Until more robust evidence is developed to support CSI use, providers should strongly consider limiting treatment to drug and device products approved as safe and effective by the FDA," the authors concluded.