The Role of Melatonin and Disrupted Sleep in Neurologic Disorders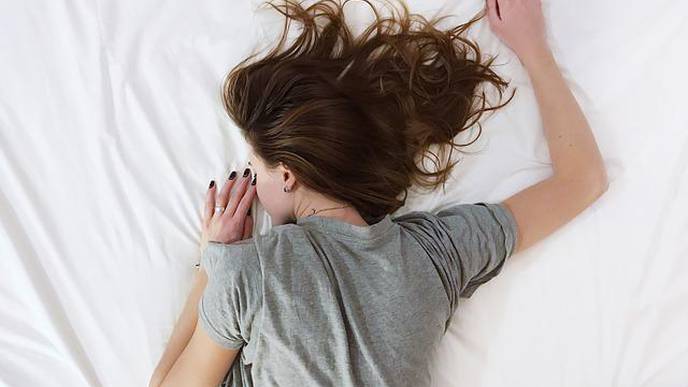 07/07/2021
Photo: Pixabay
Disordered sleep, often linked to abnormal levels of the hormone melatonin, occurs in many if not most neurologic disorders, and can often benefit from clinical treatment, according to a growing body of research that was presented during a scientific session at the virtual AAN Annual Meeting.
"Sleep disturbances and neurologic disorders are strongly linked," said Temitayo Oyegbile, MD, Ph.D., an associate professor of neurology at the University of California, Davis, where she specializes in the study of sleep and epilepsy.
"Patients with stroke, epilepsy, migraine, autism, multiple sclerosis, Alzheimer's disease, Parkinson's disease, and attention-deficit hyperactivity disorder often see a worsening of symptoms associated with poor sleep and low melatonin," said Dr. Oyegbile, who co-moderated the scientific session.
Dr. Oyegbile described the outsized role that disordered sleep and low melatonin levels can have on migraine, for example, and how she treats the problem. A 45-year-old patient, she said, had been suffering from migraine attacks since the age of 25.
"Initially, the headaches were quite infrequent, about once every two to three months, and usually they were associated with sleep deprivation," Dr. Oyegbile said. "However, over time, they started to get worse."
Her neurologist at the time diagnosed her headaches as migraine, as they involved throbbing on the left side of her head, sometimes on the right, with nausea, vomiting, and photophobia. The episodes only improved when she slept in a dark, quiet room. The neurologist recommended ibuprofen as needed and to avoid sleep deprivation.
Those recommendations worked well for the next several years, but her job as a nurse required her to do shift work. By then she was taking acute treatment medications as well as prophylaxis, and still not finding much relief.
"Eventually she was seen in my sleep clinic for sleep disruption and migraine," Dr. Oyegbile said. "Due to her work schedule, sometimes she was sleeping during the day, sometimes at night. She was only getting about three to four hours of sleep at night. Even at night when she did sleep, she was having trouble staying asleep. And she was often exhausted during the day and would often wake up with migraine."
Dr. Oyegbile ordered a polysomnography study in order to rule out obstructive sleep apnea or periodic limb movement disorder. Then she ordered a wrist actigraphy to determine exactly how much sleep she was actually getting each night.
"It turned out that she was really only getting about three, maybe four hours a night," Dr. Oyegbile said.
With migraine occurring on a near-daily basis, the patient was able to switch to an all-daytime shift. Her migraine attacks lessened in frequency but still occurred two or three times per week.
"I decided to go ahead and conduct a dim-light melatonin test, checking her melatonin level every two hours through the night," Dr. Oyegbile said.
Not only was Stephanie's overall melatonin level low, but its cyclical rise and fall was out of sync with the circadian day-night rhythm. Dr. Oyegbile prescribed 3 mg of melatonin to be taken before bedtime each night, as well as topiramate.
"After three to four months her symptoms improved significantly, so that she was having a migraine only about once a month or once every other month," Dr. Oyegbile said. "This is a great example of how melatonin, sleep disorders, and circadian rhythms can really play a role in neurologic disorders. It's something we neurologists need to keep in mind."
Melatonin-Circadian Patterns
Dr. Oyegbile noted that endogenous melatonin follows a circadian pattern—with low blood levels during the day when people are exposed to bright light, and high levels in the evening when it is dark. The release of melatonin from the pineal gland is spurred by signals sent from the suprachiasmatic nucleus via the periventricular nucleus.
"Melatonin is chronobiologic," she said. "It sets the body's internal clock. When melatonin cycles become de-synchronized from the sleep-wake cycle, treatment with exogenous melatonin can shift the phase of the clock to make sure they are correctly aligned."
Treating with melatonin can shift the timing of bedtime and waking so that they're aligned with the external day-night cycle, she explained.
Because of its internal chronobiologic properties, Dr. Oyegbile added, "When you treat with melatonin, you have to make sure you choose the timing of treatment based on the specific problem at hand. Anywhere from 3.5 mg to 5 mg before bedtime tends to work very well in improving sleep, but doses vary depending on the individual and the situation, as melatonin has both soporific/sedative and phase-shifting effects."
Neuroprotective Qualities of Melatonin
Treatment of disordered sleep with melatonin might even have neuroprotective effects, although preclinical data has yet to be confirmed in randomized clinical trials, said the session's co-moderator, Aleksander Videnovic, MD, MSc, FAAN, associate professor of neurology at Harvard Medical School, director of the division of sleep medicine at Massachusetts General Hospital and director of the MGH Program on sleep, circadian biology, and neurodegeneration.
"There is a big disconnect between the promise that this agent has shown in preclinical studies and human studies," he said. Similar studies have not been conducted in people, Dr. Videnovic said, adding: "I think there is an opportunity to bridge that gap, to design clinical trials."
But even in the absence of convincing clinical data, he added, "Melatonin is a very well tolerated molecule in general, and there is really not much to lose by giving it a try."
The hormone not only has an immediate soporific effect soon after taking but also can have a prospective effect by increasing alertness during the following day when melatonin levels are low, Dr. Videnovic said during his presentation.
Dr. Videnovic emphasized, however, that for now there is "quite limited evidence" for melatonin improving sleep in patients with Alzheimer's disease, for example, let alone improving cognition or activities of daily living.
Dr. Videnovic coauthored papers in 2014 and 2019, however, circadian melatonin levels could have an effect on Parkinson's disease. Bright light, physical exercise, and melatonin as chronotherapeutic tools may "alleviate motor disorders, sleep/wake alterations, anxiety, and depression in PD patients," he said.
He also cited studies demonstrating that circadian dysfunction is present in almost half of newly diagnosed PD patients, and is significantly associated with reduced hypothalamic gray matter volume.
Asked about dosing regimens, Dr. Videnovic said he generally starts at 3 mg to 5 mg and usually does not exceed 12 mg.
Because the hormone is sold over the counter as a dietary supplement, he said, different brands may have different potencies. If a patient is not experiencing therapeutic benefit when they begin on melatonin, he said, "Sometimes I tell the patient to try another brand, to see whether they may have better success."
Disclosure
Dr. Videnovic discloses that he has received personal compensation for serving as a consultant for Jazz. Dr. Videnovic has also received personal compensation for serving on a scientific advisory board or data safety monitoring board for Alexion Pharmaceuticals. Dr. Oyegbile, Stang, and Kanegi have nothing to disclose.
Disordered Sleep and Neurologic Disorders
Two papers presented at the session by young scientists offered new insights into the powerful interactions between disordered sleep and neurologic disorders.
A researcher at the University of Texas Health Science Center at San Antonio presented the results of a mouse study showing that the longer they were sleep-deprived, the more readily they exhibited behavioral signs consistent with a model of migraine.
"Sleep deprivation is the second most common trigger of migraine, but the mechanisms behind it are not well-understood," said Skyler Kanegi, a second-year medical student. "This is partly because we do not have a standardized preclinical model for measuring sleep deprivation migraine in the lab. So the purpose of the study was to develop a preclinical model which could reliably trigger sleep-deprivation migraine in mice.
Kanegi and colleagues began by pressing von Frey filaments against each mouse's forehead daily for a week until they did not respond to 0.6g of force. They then exposed three groups of mice to one, three, or five days of dim light at night, from 6 pm till 6 am, in an effort to disturb their circadian rhythms. After the light exposure, all three groups had a 24-hour rest period before further testing. More than 24 hours after light exposure, all mice exhibited allodynia, displaying increasing sensitivity to filaments that initially generated no response. It took multiple days for the mice to return to their baseline tolerance for the von Frey filaments.
"All three groups had no response to 0.6g of force before the light exposure," Kanegi reported. "After being exposed to light for one night, mice could only tolerate 0.26g of force. After being exposed to light for three nights, mice could only tolerate 0.05g. After being exposed to light for five nights, mice could only tolerate 0.01g. The number of days of significant increased sensitivity also correlated almost perfectly with duration of sleep deprivation."
"We cannot ask a mouse if it is experiencing a headache," Kanegi said. "We can only observe how it behaves in response to the von Frey filaments. We think this is a pretty good procedure for measuring migraine because up to 70 percent of people experience peripheral allodynia during migraine attacks.
Kanegi said the study, which was funded by a grant from the National Institute of Neurological Disorders and Stroke, produced preliminary results. But, he said, "We are excited about the results so far. I'm grateful for the AAN's continued support of our exploration of the pathophysiology of migraine."
In another paper, researchers presented an analysis of 25 years of medical records between 1991 to 2010 as part of the Rochester Epidemiology Project, comprising nearly all residents of Olmstead County, MN. The analysis showed that REM sleep behavior disorders (RBDs) are highly prevalent in such alpha-synucleinopathies as Parkinson's disease and dementia with Lewy bodies.
"Cumulative lifetime risk of developing RBD was 53 times greater in alpha-synucleinopathies patients than in controls," reported Cole Daniel Stang, a graduate researcher in the Parkinson's Disease and Synucleinopathies Research Lab at Mayo's department of neurology.
They found 444 cases of alpha-synucleinopathies, of which 86 were clinically diagnosed with RBD (19.8 percent), including 30 by polysomnography and the remainder as probable.
Among controls, cases of RBD were remarkably low, with incidence per 100 person years at 0.040 overall; females slightly higher than males (0.050 vs. 0.034).
For all alpha-synucleinopathies combined, the overall incidence was 2.487 per 100 person years, with males more than three times likelier (at 3.606 per 100-person years) to develop it than females (1.069 per 100 person years).
Broken down by type of alpha-synucleinopathy, the overall rate of RBD was less common among patients with PD (1.93 per 100 person years) and PD dementia (0.870 per 100 person years) compared to dementia with Lewy bodies (7.866 per 100 per years). There, too, males had a far higher rate than did females (12.710 per 100 person years vs. 1.279 per 100 person years).
"We saw that idiopathic RBD prevalence at alpha-synucleinopathy diagnoses was 3.4 percent and increased to 23.8 percent after 15 disease years," Stang said.
Asked about whether any familial or genetic patterns have been seen in RBD, Stang said that not enough time has elapsed in the study for such cases to be seen in children of patients.
"Both of these very interesting papers show the interaction between sleep and neurologic disorders," said the co-moderator of the scientific session at which the paper were presented, Dr. Oyegbile said. "There is some accumulating evidence of the role of melatonin in the treatment of these disorders. However, more research in both human and non-human models is necessary to get a better understanding and to also further impact treatment of these disorders."