This Drug Can Shrink Tumors in Pancreatic Cancer Patients with Mutations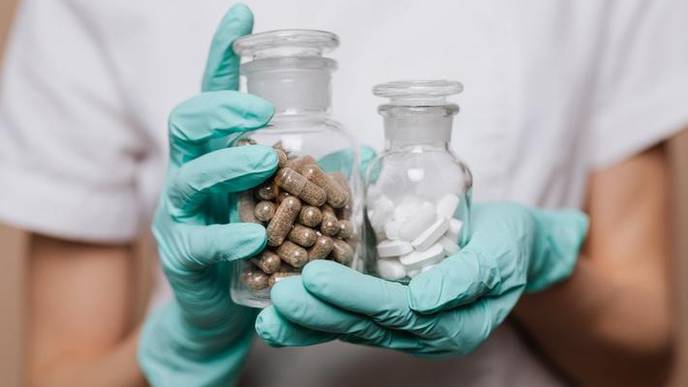 05/11/2021
Photo: CC0 Public Domain
In a new study from the University of Pennsylvania, researchers found that more than two-thirds of pancreatic cancer patients harboring genetic mutations saw their tumor stop growing or shrink after using the PARP inhibitor rucaparib as maintenance therapy.
The results from the phase II trial at the ACC support the use rucaparib for pancreatic cancer patients with BRCA1, BRCA2, and PALB2 variants to help control tumor growth without the aggressive side effects of chemotherapy.
Rucaparib—targeted therapy in pill form—is currently approved by the U.S. Food and Drug Administration as maintenance therapy for patients with recurrent ovarian and fallopian tube cancer and prostate cancer, but not pancreatic cancer.
Of the 42 patients with advanced pancreatic cancer evaluated in the study, 12 had a partial response and three had a complete response.
At the cutoff date of the study, eight patients remained alive and in active follow-up more than two years after starting rucaparib, of which four are progression-free.
Lydia Henson, a 56-year-old patient who was diagnosed with metastatic pancreatic cancer in 2014, was treated with chemotherapy for years before discovering she had the PALB2 mutation, which led her to the ACC trial.
She has been on the PARP inhibitor for 18 months, with no signs of active cancer.
The team says this is another step forward for PARP inhibitors and for the treatment of tough-to-treat pancreas tumors.
It's a safe option that not only has the potential to maintain responses, but also shrinks pancreatic tumors and, in some cases, achieve complete responses for those carrying these mutations.
Pancreatic cancer is responsible for more cancer deaths in the United States each year than any cancer type other than lung and colorectal, despite the fact that it only accounts for about three percent of annual new cancer cases.
Just 10% of patients survive five years with the disease. Between 6% and 8% of pancreatic cancer patients have a BRCA or PALB2 mutation.
If you care about pancreatic cancer, please read studies about the key to stopping the spread of pancreatic cancer and findings of this common health problem linked to high risk of pancreatic cancer.