This Wearable Ketamine Device Could Be the Future of Pain Management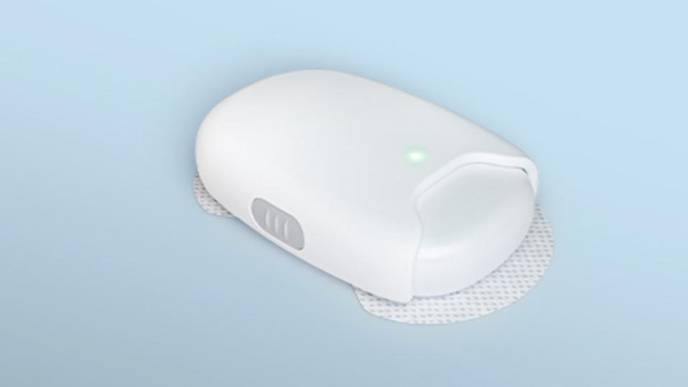 09/19/2020
Photo: Bexson Biomedical
Bexson Biomedical, a research stage biotech, has partnered with medical packaging and device manufacturer Stevanato Group to create a wearable ketamine delivery device for pain management patients.
Gregg Peterson, a biopharma entrepreneur who cofounded Bexson in 2017 with psychiatrist Jeffrey Becker, says that the dissociative psychedelic, which has been used as an anesthetic for decades and has a lower abuse potential than morphine, could be an effective and safer alternative to opioids.
"Postoperative pain is one of the leading drivers in the opioid crisis. If you want to move the needle on opioid addiction in America you need to provide a new, non-opioid therapy that patients can go home with that has opioid-level efficacy," says Peterson, CEO of Bexson. "We think our product will be able to do that."
Bexson is developing a proprietary formulation of ketamine with increased bioavailability and a higher pH level so it can be delivered subcutaneously. Stevanato Group will make a customized version of its insulin delivery device, complete with anti-tampering and anti-abuse technologies, for the ketamine formula. The device, which includes a disposable pod, a needle, and a Bluetooth-enabled control unit to administer doses, is meant to be worn by patients returning from surgery to treat short-term, acute pain.
Currently, in the middle of a $4 million Series A funding round, Bexson is still in pre-clinical development. The research stage company will start animal testing this year, with plans to launch a phase one clinical trial in 2021. Peterson says if all goes well, Bexson's wearable ketamine delivery system could be approved by the FDA for post-op pain by 2026.
Ketamine has a long history of both legitimate medical uses and recreational drug use. The dissociative psychedelic has been FDA-approved since 1970 as a fast-acting anesthetic. At high doses, ketamine produces powerful hallucinations and out-of-body experiences.
At sub-anesthetic doses, ketamine can be an effective treatment for suicidal ideation and treatment-resistant depression. Research first conducted at Yale in the late 1990s and later by the National Institutes of Health found that ketamine prompts glutamate production, a neurotransmitter, leading to the creation of new neural pathways that disrupt depressive thoughts. These studies led to ketamine intravenous infusion clinics to pop up across the country as doctors sold ketamine treatments as an off-label therapy for depression, anxiety, and post-traumatic stress disorder. In 2019, the FDA approved Johnson & Johnson's ketamine-derived nasal spray Spravato for depression, which became the first approved depression treatment in decades.
Promising research on hallucinogenic compounds has launched a psychedelic renaissance in medicine. Companies like Compass Pathways and Mind Medicine and the nonprofit Multidisciplinary Association for Psychedelic Studies (MAPS) are raising capital and conducting clinical research on drugs like MDMA, LSD, and psilocybin to bring to market a new blockbuster treatment for mental disorders. But ketamine has an advantage over these psychedelics, which are banned by the federal government and considered to have no medical value: ketamine has been approved and used in medicine for 50 years.
Bexson is making a new formulation and targeting a different use case for ketamine, so it will have to go through the FDA approval process, but Becker believes it'll be easier than bringing a banned psychedelic to market.
"We know it's safe and we know it works, which is very rare for biotech at this stage," says Becker.
The fact that Bexson is targeting pain management is unique. The pitch is simple: what if there was a safer alternative to narcotic pain killers like oxycodone? If successful, Bexson's ketamine formulation and the delivery device could claim a piece of the $12 billion annual post-op pain market.
Michael Hoyos, a co-founding partner at The Conscious Fund, an early-stage investment group focused on psychedelic healthcare that participated in Bexson's Series A, says Bexson's biggest advantage is its target market.
"Bexson is interesting because a lot of companies [in the psychedelics space] are focusing on mental health, but they are one of the few companies looking at pain management," he says. "You have a huge addressable market, which I am excited about from a public health standpoint, and the prevailing treatment options are falling short and leading to bad patient outcomes."
To be sure, Ketamine is not without risks. Prolonged use can lead to physical dependence, according to the FDA. Ketamine raises blood pressure and heart rate and some people might experience confusion and agitation when emerging from an anesthetic dose. Ketamine can also damage the liver and cause bladder inflammation. Mixing ketamine with other drugs, especially central nervous system depressants like opioids and benzodiazepines, can be fatal.
Bexson's disposable pods will contain between 20 to 70 milligrams of ketamine, which will be released slowly over a 24-hour period. Becker says that there will not be enough of the drug in a person's system to cause hallucinations—it's a low, non-dissociative dose.
"We're anticipating that it will feel like you had a glass of wine, maybe a martini," Peterson says.
Acute pain is only the first step for Bexson. If approved, the company's wearable pods can be filled with other unique ketamine formulations that target different conditions.
"What we're making is a drug delivery platform that can be reprogrammed for another use-case," says Becker. "Eventually, we will start looking at mental health."