Use of Topical CBD Preparations for Hair Growth Lacks Evidence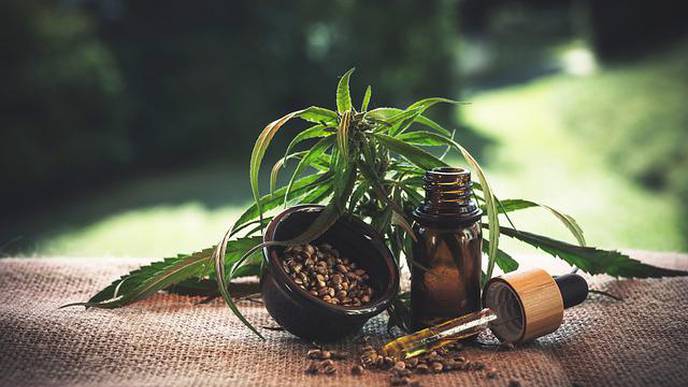 10/19/2022
Photo: Pixabay
Clinical trial data are lacking to support the use of topical cannabinoid or cannabidiol (CBD) preparations for hair loss in place of current treatments approved by the US Food and Drug Administration (FDA), according findings from a study published in the Journal of Cosmetic Dermatology.
Researchers conducted a comprehensive and structured search in PubMed and Google Scholar on June 23, 2022 for relevant studies. A total of 28 articles were included in the analysis.
Cannabinoids that function as cannabinoid receptor type 1 (CB1) receptor agonists may cause hair loss, and those that function as CB1 receptor antagonists may promote hair growth, it was posited. In addition, phytocannabinoids may have a paradoxical effect. CBD is a CB1 receptor antagonist and may promote hair growth, and as transient receptor potential cation channel subfamily V member 1-receptor and transient receptor potential cation channel subfamily V member 4-receptor (TRPV4) agonists, CBD may result in hair loss.
Regarding clinical evidence of an increase in hair growth, investigators cited 1 case series that evaluated the effect of CBD-rich topical cannabis extract on hair growth in humans. It included 28 White men with androgenetic alopecia (aged 28 to 72 years) and 7 White women with androgenetic alopecia (aged 46 to 76 years), respectively. Topical cannabis extract was applied once daily for 6 months, and each application of the extract contained 3 to 4 mg of CBD. The patients had an average of 93.5% nonvellus hair count increase when the hair counts of temporal and vertex areas were combined.
CBD may have a concentration-dependent effect on hair growth, according to the investigators. CBD may cause hair loss at high concentrations (≥10 µM) by activating the TRPV4 receptor. At a low concentration, CBD also may have a negative impact on hair regrowth efficacy via different mechanisms.
"Investigators have to identify an optimum CBD concentration to solve this double-edged issue," noted the study authors. "Overall, an ideal topical cannabinoid preparation for hair growth should contain CBD at an optimum concentration and lack any follicle-inhibiting phytocannabinoid adulterants."
Thus far, topical cannabinoid preparations have not been associated with serious adverse events. Patients may have minor side effects, including pruritus, erythema, burning, and stinging. Topical cannabinoid products applied to compromised skin or scalp also may significantly increase the risk for infection.
"We recommend dermatologists try standard FDA-approved hair loss treatments prior to prescribing any topical CBD preparation," stated the researchers. "Further research is required to confirm the efficacy and safety of topical cannabinoids for managing hair loss."