Work Activity Levels & Dietary Choices Are Associated with RA Risk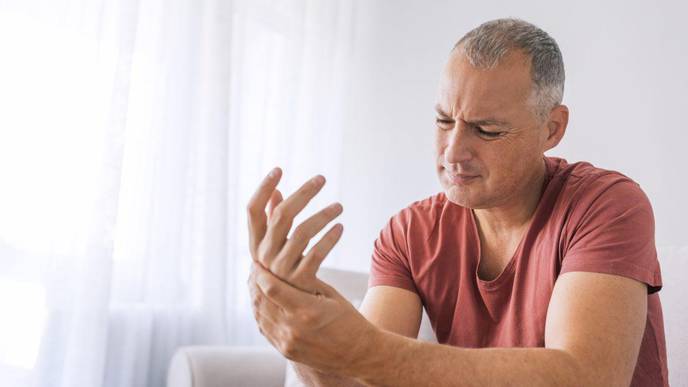 10/24/2022
Photo: Getty Images
Moderate to high work activity levels and poor dietary choices may increase the risk of developing rheumatoid arthritis (RA), according to study findings published in Seminars in Arthritis and Rheumatism.
Researchers conducted a case-control study to assess the association between physical activity and diet and RA risk.
Patients with RA within the Mayo Clinic Biobank were matched 1:3 with control participants. The Godin Leisure-Time Exercise Questionnaire, a work activity level questionnaire, and a dietary exposure questionnaire assessed leisure activity levels, work activity levels, and dietary exposures, respectively, at baseline and 4-year follow-up.
A diagnosis of RA correlated with moderately active work physical activity levels (odds ratio [OR], 1.34; 95% CI, 0.69-2.59) or highly active work physical activity levels (OR, 1.04; 95% CI, 0.49-2.19).
Patients who consumed 3 to 4 or 5 and more servings of fruits and vegetables per day had a lower likelihood of RA diagnosis than those who consumed 0 to 3 servings (OR, 0.45; 95% CI, 0.21-0.97 and OR, 0.54; 95% CI, 0.27-1.08), respectively. A moderate consumption of milk, dairy, and calcium products also lowered the probability of RA diagnosis (adjusted OR [aOR], 0.65; 95% CI, 0.45-0.93).
Body mass index (BMI) between 25 and 30 and greater than 30 increased the risk for RA diagnosis, but not significantly (OR, 1.09; 95% CI, 0.71-1.67 and OR, 1.40; 95% CI, 0.93-2.11, respectively). High-fat diets increased risk for RA diagnosis (aOR, 1.22; 95% CI, 0.74-2.00).
Study limitations included small sample size, potential selection bias, limited generalizability, potential exposure misclassifications, reliance on self-reported questionnaires, unmeasured confounding factors, , and reverse causation due to misclassified onset of RA diagnosis.
"These findings help inform patient-physician discussions regarding modifiable lifestyle interventions that can impact RA," the study authors concluded.