Drinking Alcohol Not Likely to Increase Risk of a Breast Cancer Recurrence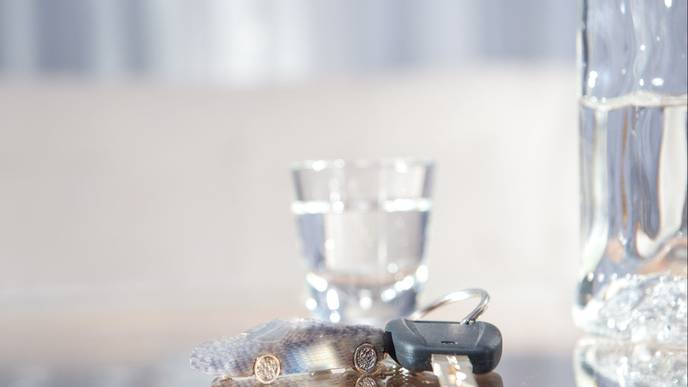 08/10/2023
Kaiser Permanente study adds new data from largest U.S. study following breast cancer survivors to address common question
A Kaiser Permanente study provides new information that may help oncologists answer one of the most common questions they get from breast cancer survivors: Is it safe for me to drink alcohol?
The new study, published August 9 in Cancer, is the largest prospective study to look at short-term alcohol use after breast cancer. The findings suggest drinking alcohol is not associated with an increased risk of having breast cancer come back or dying from the disease.
"We know that women who drink alcohol are at increased risk of developing breast cancer and that the risk increases as alcohol use increases," said lead author Marilyn Kwan, PhD, a research scientist with the Kaiser Permanente Northern California Division of Research. "For this reason, we thought that drinking alcohol after a breast cancer diagnosis could increase the risk of a cancer recurrence. But our study found that, overall, drinking alcohol after a breast cancer diagnosis does not impact a patient's prognosis."
Alcohol use is thought to increase breast cancer risk because it raises a woman's levels of estrogen and acetaldehyde, which are 2 known breast cancer risk factors. Breast cancer prevention guidelines recommend that women have no more than one alcoholic drink per day.
Previous studies that looked at alcohol use and breast cancer risk have had conflicting results. Moreover, most were focused on alcohol use before a breast cancer diagnosis. As a result, there are currently no guidelines for breast cancer survivors on alcohol use.
For their analysis, the research team used data from the Pathways Study, a prospective study of 4,504 women diagnosed with invasive breast cancer from 2005 to 2013 at Kaiser Permanente Northern California. It is one of the largest U.S. studies to follow breast cancer survivors to track the relationship between lifestyle changes and outcomes.
"After a breast cancer diagnosis, patients are often focused on making lifestyle changes that could help them live longer," said senior author Lawrence H. Kushi, ScD, a research scientist at the Division of Research.
"For many women, whether drinking alcoholic beverages affects likelihood of recurrence is of concern," added Kushi, who co-leads the Pathways Study with Christine B. Ambrosone, PhD, of the Roswell Park Comprehensive Cancer Center. "The aim of our study is to provide breast cancer survivors and their physicians with information that can help them make decisions that will improve both their quantity and quality of life."
The new study included 3,659 women who had completed a questionnaire about their alcohol use prior to their breast cancer diagnosis when they entered the Pathways Study. The women completed the same questionnaire 6 months after their diagnosis. Over the next 11 years, 524 women had a breast cancer recurrence. During that time, 834 women in the study died — 369 from breast cancer, 314 from cardiovascular disease, and 151 from other health problems.
The researchers determined that, in general, there was no association between alcohol use at the time of a breast cancer diagnosis or 6 months later and the risk of recurrence or death. The study considered factors such as age at diagnosis, cancer stage, race and ethnicity, socioeconomic details, menopausal status at diagnosis, the tumor's characteristics, how the cancer was treated, smoking history, physical activity and body mass index at diagnosis, and pre-existing health issues that might skew the findings.
Our study found that, overall, drinking alcohol after a breast cancer diagnosis does not impact a patient's prognosis.

— Marilyn Kwan, PhD
Although no overall association was seen between alcohol use and outcomes, the researchers did find differences based on a woman's body mass index. For example, the study found that in women with obesity at diagnosis, occasional alcohol use (2 or more drinks per week) compared with no alcohol use, was associated with a decreased risk of overall death, primarily because these women had a decreased risk of dying of cardiovascular disease. It's not clear how to interpret this finding, although the women with obesity possibly had a healthier lifestyle as they exercised more.
"Other studies have found that women with obesity are at higher risk of developing breast cancer and at higher risk of a breast cancer recurrence," said Kwan. "That makes our finding that obese women had a lower risk of overall death with increasing alcohol consumption somewhat challenging to interpret."
The researchers hope that their findings will help doctors provide accurate information to breast cancer survivors who want to know what lifestyle changes they can make to improve their outcomes.
"This study is directly applicable to the thousands of women who survive breast cancer each year, as alcohol use is one of the most common lifestyle questions in breast cancer survivorship," said Raymond Liu, MD, an adjunct investigator with the Division of Research and the director of cancer survivorship for Kaiser Permanente San Francisco. "Our Kaiser Permanente survivorship clinicians will now be empowered with data from our own health system to provide better evidence-based counseling to their patients with breast cancer."
The study was funded by the National Cancer Institute.
Co-authors include Emily Valice, MPH, Isaac J. Ergas, PhD, MPH, Janise M. Roh, MSW, MPH, Bette J. Caan, DrPH, Charles P. Quesenberry, Jr, PhD, and Elizabeth M. Cespedes Feliciano, ScD, of the Division of Research; Tatjana Kolevska, MD, of The Permanente Medical Group; and Terryl J. Hartman, PhD, MPH, RD, of Emory University.