Long-term Use of Certain Reflux Medications is Associated with a Higher Risk of Dementia, Study Suggests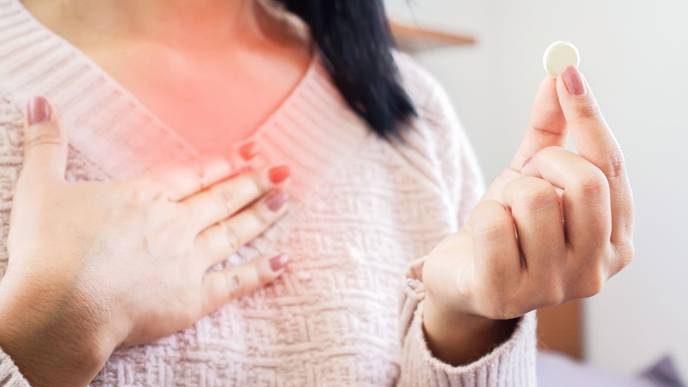 08/12/2023
CNN  — 
Millions of Americans take medications known as proton pump inhibitors every day to treat heartburn and acid reflux, and in recent years, these drugs, also known as PPIs, have been linked to a greater risk of kidney failure, stroke, and early death from any cause.
And new research suggests that there may also be a higher risk of dementia for people who take the medications over several years.
People 45 and up who took PPIs for over four years had a 33% higher risk of developing dementia than people who never took the drugs, according to a study published Wednesday in the journal Neurology.
Dementia is not a single disease but an open-ended term for memory loss and cognitive decline caused by damage to brain cells.
PPIs reduce stomach acid by targeting the enzymes in the stomach lining that produce that acid. They are often used to treat symptoms of acid reflux and gastroesophageal reflux disease or GERD, a serious form of acid reflux in which food or liquid moves up from the stomach to the esophagus.
PPIs are widely available over the counter and often used to treat heartburn, the mild burning sensation you get with acid reflux.
People who occasionally take these medications after a barbecue shouldn't be worried, experts say.
"This study does not prove that acid reflux drugs cause dementia," study author Dr. Kamakshi Lakshminarayan, a neurologist at the University of Minnesota School of Public Health in Minneapolis and a member of the American Academy of Neurology, told CNN in an email. "It only shows an association. More research is needed to confirm our findings in other large study groups and understand the possible link between long-term proton pump inhibitor use and higher risk of dementia."
Hear physician explain new research clue on Alzheimer's disease
Links between PPIs and dementia
Lakshminarayan and her team analyzed a population-based study made up of 5,712 people ages 45 to 64 who did not have dementia at the start of the study.
Nearly 1,500 participants — 26% — took PPIs during that time.
After adjusting for age, sex and race as well as health conditions like diabetes and high blood pressure, the researchers found that out of the 497 people who took PPIs for nearly 4½ years, 58 of them developed dementia.
Of the 4,222 participants who did not take the drugs, 415 developed dementia. Researchers did not find a higher risk for people who took the drugs for less than 4.4 years.
The study did have some limitations. Participants were asked about their medication use only once a year during the study period. Therefore, if participants stopped and then restarted their PPI use between check-ins, estimations could be inaccurate. It is also unclear whether the participants took over-the-counter PPIs or prescription medication.
The researchers identified B12 deficiency and impaired amyloid metabolism as possible links between the overuse of PPIs and dementia.
"Some studies have shown that use of acid reflux drugs may be associated with low B12 levels. And low B12 is associated with impaired thinking and poor memory," Lakshminarayan says, adding that her team did not have B12 data levels for study participants, so they "could not comment on this theory."
Dr. Gregory Day, an associate professor in the Department of Neurology at the Mayo Clinic in Jacksonville, Florida, and a fellow of the American Academy of Neurology, agreed that there may be a link between PPIs and theeffects on amyloid in the brain.
Day, who was not involved in the study, said proton pump inhibitors can "alter enzymes in the brain" that clear buildup of a protein in the brain called amyloid, a key component in Alzheimer's disease.
PPIs may "decrease the level of the body's chemical that is there to cut off the amyloid in specific ways," he said. "In theory, these medications increase amyloid in the brain, increasing the risk of Alzheimer's disease, and Alzheimer's is the number one cause of dementia."
For people taking proton pump inhibitors for more than four years, Lakshminarayan recommends speaking to a doctor about whether there are other options.
"Stopping these drugs suddenly may result in worse symptoms," she said.
People with frequent acid reflux can develop GERD, which can lead to severe gastrointestinal bleeding or cancer of the esophagus, experts note.
There are other avenues to treating acid reflux and heartburn, such as over-the-counter antacids. Antacids differ from PPIs in that they act on the acid that is already in the stomach and neutralize it, Lakshminarayan says.
For longer-lasting relief, H2 antagonist medications, also called H2 blockers, are also an option, but they can take a few hours to kick in.
Day adds that some people might need to reassess their use of PPIs, which he says can often be overused or taken for symptoms that are not severe enough.
"What I would recommend is that if people are taking these medications, whether they're concerned about their memory or not," Day says. "I think it's always reasonable to ask, 'Why am I taking these medications?' "
Changes to diet and avoiding late meals can decrease the use of PPIs. Being overweight can also be a factor in acid reflux, so losing weight can help reduce symptoms, too. But these alternatives don't work for everyone, Lakshminarayan said.
"Our recommendation is that patients should talk to their doctors about their medications and let their doctors know if they are taking any over-the-counter medications," Lakshminarayan said.