New Cancer Drug May Also Curb Peanut Allergies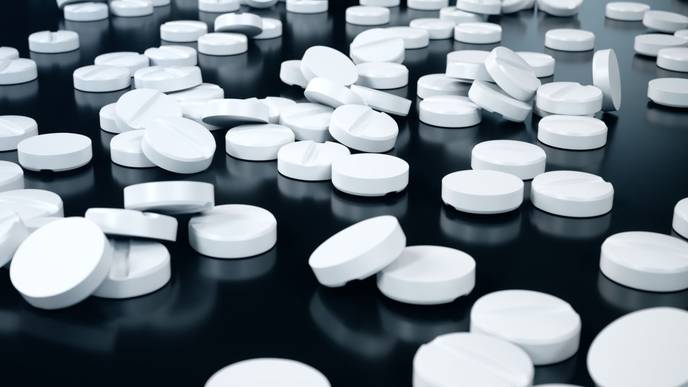 09/18/2023
A new drug used to treat cancer may also prevent allergic reactions to peanuts, according to a study published in the Journal of Clinical Investigation.
The drug, acalabrutinib, has been approved by the FDA to treat lymphomas by inhibiting Bruton's tyrosine kinase (BTK), an enzyme inside cells also known to be necessary during allergic reactions, including anaphylaxis.
After discovering that patients with food allergies had reduced skin test responses to those foods while taking the drug, investigators tested the drug's ability to prevent reactions to peanut ingestion in 10 adults with peanut allergies.
At baseline testing, patients had an allergic reaction to a median of 29 milligrams of peanut protein. A single peanut contains roughly 200 milligrams of peanut protein.
After receiving four doses of acalabrutinib over two days, seven of the patients tolerated the maximum 4,044 milligrams of peanut protein without having an allergic reaction; the other 3 patients' peanut tolerance increased between 32- and 217-fold compared to baseline testing.
While the study population was small, the results suggest acalabrutinib may have a clinical use in preventing anaphylaxis in people with peanut allergies, said Bruce Bochner, MD,  Professor Emeritus of Medicine in the Division of Allergy and Immunology and a co-author of the study.
"Seven out of ten of these patients sailed through the peanut ingestion test without any reaction whatsoever after taking this drug. And for the three others, their threshold for reacting markedly improved," Bochner said. "These subjects went from reacting to a fraction of a peanut to tolerating up to about 20 peanuts. Without any hyperbole, there is no drug ever tested that works this well to protect somebody from anaphylaxis."
Moving forward, Bochner said the findings need to be validated in larger trials. Because the drug can block allergic reactions to peanuts, it's possible it could also block allergic reactions to other foods as well as other allergens like drugs, so such a pretreatment strategy could be useful if a patient needs to take a drug they are allergic to which has no other alternative, Bochner said.
"If someone has cancer and there's only one drug that can treat them, but they're allergic to it, this could be a situation where they are pretreated with this drug and can then receive their chemotherapy. That would eventually need to be validated in a double-blind manner just to confirm as rigorously as possible that this drug is effective at protecting from anaphylaxis," Bochner said.
The study was led by Melanie Dispenza, MD, PhD, assistant professor of Medicine at the Johns Hopkins University School of Medicine. Dispenza completed her residency in internal medicine and fellowship in allergy and immunology in the Physician-Scientist Training Program at Feinberg and trained under Bochner.
"There are no known therapies that can reliably prevent anaphylaxis from allergens. BTK inhibitors like acalabrutinib are the first drugs shown to effectively prevent allergic reactions to foods with a rapid onset," Dispenza said. "This finding is groundbreaking for the field of allergy and could dramatically change the way we treat food and drug allergies."
Dispenza credits the Northwestern Physician-Scientist Training Program program for providing crucial support and protected time during her residency and fellowship, during which she completed the preliminary research that provided the basis for the acalabrutinib study.  
"My experience in the Northwestern PSTP program was extremely valuable for launching my career in academics. Their support of junior physician-scientists is unparalleled," Dispenza said. "I had world-class mentors, including Bruce Bochner, as well as access to a multitude of career development resources. I'll be forever grateful to the PSTP program as well as to my residency and fellowship directors, Aashish Didwania and Carol Saltoun, for their guidance and unending support."
Support for this study was provided by AstraZeneca Pharmaceuticals, the Johns Hopkins Institute for Clinical and Translational Research, the Ludwig Family Foundation, NIH grants AI143965 and AI106043, and a Dixon Translational Research Seed Grant.