Some Older Adults Are Driving With Cognitive Impairments, New Study Shows. But Experts say Figuring Out When They Should Stop Is 'Complicated.'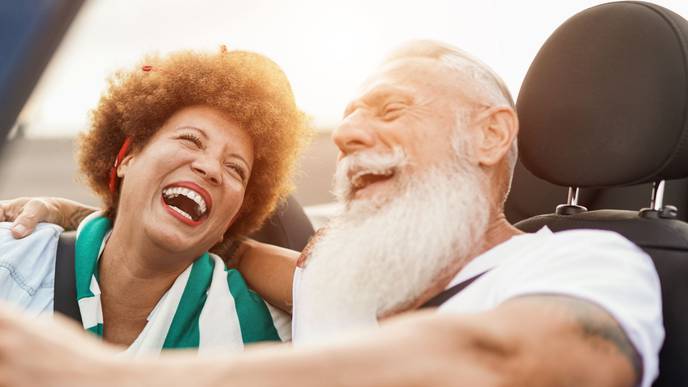 08/15/2023
Older adults in the U.S. don't necessarily want to give up their car keys — even when they may be experiencing cognitive decline, a new study shows.
That's not surprising given that driving is a symbol of independence, allowing people, including older people, the ability to go where they please at any time.
But how safe is it for older adults experiencing cognitive decline to continue driving? And how can family members and caretakers help them retire from driving when it's time? Here's what experts say.
What the study says
The study from the University of Michigan, published in the Journal of the American Geriatrics Society, assessed more than 600 adults over 65 years old in Texas, who had cognitive scores that showed they likely had impairments, which may affect their ability to drive safely.
What are the key findings?
The researchers found that more than 61% of older adults with likely cognitive impairments were still driving. The study also found that over 35% of caregivers expressed concerns about their care recipient's ability to drive safely, despite the fact that study participants limited their total driving time and avoided being on the road at night or when it's raining.
These findings point to a growing problem, with dementia or mild cognitive impairment affecting one-third of all adults over 65 in the U.S., according to a 2022 study. Although it might seem that having dementia means you might end up at the grocery store instead of the pharmacy, for example, it's much more than that — and actually is a significant cause of roadway accidents.
What experts think
"In our clinics, we regularly see older adults with cognitive impairment who are continuing to drive for various different reasons," Dr. Upinder Singh, a geriatrician at Valley Oaks Medical Group in Nevada, tells Yahoo Life. "I strongly believe that this is something which should not be overlooked or ignored."
However, Stella Panos, PhD, neuropsychologist and director of neuropsychology for the Pacific Neuroscience Institute at Providence Saint John's Health Center in Santa Monica, Calif., tells Yahoo Life that it's important to contextualize the study results.
She says it's a bit more complicated than it seems to determine what constitutes "cognitive impairment," and the assessment the researchers used in the study can show less than the full picture. "Determining when to stop is somewhat complicated as the presence of mild cognitive changes does not necessarily mean that they lack the capacity to drive," she says. However, Panos adds: "There is increasing risk for driving errors with increased severity of cognitive impairment."
Panos says that "a more comprehensive evaluation — that includes functional assessment of driving, such as via DMV, or clinics that provide simulated driving evaluations — is recommended when there is some concern and level of impairment is not clearly indicative of inability to drive." She adds that it's possible a proportion of the sample included in this study did not necessarily have cognitive impairment.
Her analysis of the study points to a larger public health issue, she explains, about being able to "efficiently identify" those who can no longer safely drive and help them get access to alternatives.
Jennifer Prescott, registered nurse, founder of Blue Water Homecare and Hospice and a seasoned senior care provider of 25 years, agrees, calling for more comprehensive evaluations for safe driving.
"Acknowledging the time constraints in clinical visits, physicians are urged to initiate early conversations about the criteria for unsafe driving and furnish patients and families with guidelines for identifying pertinent indicators," Prescott tells Yahoo Life. "By adopting these measures, health care practitioners can contribute to preserving individual autonomy while promoting overall safety for seniors and the broader community."
Why it matters
Trying to assess whether an older adult with cognitive impairment should continue to drive isn't an easy decision or conversation to have, but it's important given the possible risks of continuing to allow those who shouldn't drive to get behind the wheel.
Even if it's the right decision, however, losing that independence can take a psychological toll on older adults. "Loss of driving status can also have a significant negative impact on well-being, for example resulting in decreased socialization," says Panos.
But here are ways to address this, including through programs that provide easier access for transportation, notes Panos. "It is important for families to have open discussions about this and identify ways in which they can mitigate some of the losses or reasons that make driving difficult to stop for some," she says.
First, don't wait until there's been a car accident or major incident necessitating a quick end to decades of driving, Nicole Brackett, care and delivery education manager at Homewatch Caregivers in Greenwood Village, Colo., tells Yahoo Life. Instead, the National Institute on Aging recommends a gradual approach to the conversation.
Experts say that leading with empathy can help ease the transition a bit. "For a caregiver, it's crucial to approach this with kindness and compassion, as driving could hold significant importance to them, such as the independence, confidence and freedom it brings them," Brackett says. "Open the conversation with empathy and respect. Understand that this is a significant shift in your loved one's independence, and they may have a difficult time accepting that — it is natural for them to feel upset."
Singh says that doctors should be involved in the discussion and that allowing the doctor to make the decision alleviates tension with family members. "I always recommend to family members that they don't need to be the bad guys to take away the keys," he says. "They have to live with a family member. I don't like the patient to get angry with the family members that they took their independence away. I always recommend that it needs to come from the doctor."
Experts also suggest looking into alternative transportation, such as friends and other family members, along with ride-sharing services. "As your loved one with dementia or Alzheimer's ages, they might reach a point where driving becomes unsafe, and you may not always be available to provide transportation," says Brackett. "Although discussing the need to take away their car keys can be challenging, conducting thorough research on alternative transportation options can facilitate a smoother transition into this new phase of life."
Wellness, parenting, body image and more: Get to know the who behind the hoo with Yahoo Life's newsletter. Sign up here.