Why More Children Are Nearsighted Now and What We Can Do About It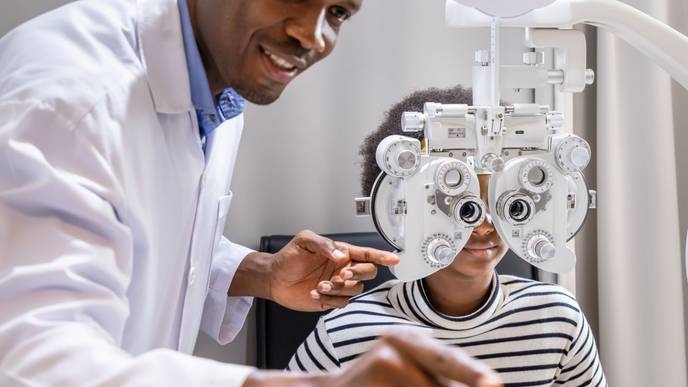 12/09/2022
Childhood myopia (nearsightedness) is on track to reach epidemic levels in the United States and worldwide by the middle of this century.
"In general, we've seen a trend toward increased myopia in children, along with an earlier onset, and this has been climbing for about 50 years," says Katherine Lee, MD, PhD, president of the American Association for Pediatric Ophthalmology and Strabismus and the medical director of pediatric ophthalmology at St. Luke's Regional Hospital in Boise, Idaho. "Both trends are worrisome, because if myopia is progressing faster and is starting in children, then when childhood is done a good proportion of youngsters are going to be significantly nearsighted."
It's too soon for researchers to confirm the COVID-19 pandemic's effect. But Dr. Lee and other experts say it seems to have accelerated both incidence and onset, fueling a rapid rise in nearsightedness that could affect more than 4.7 billion people — almost half the world's population — by 2050.
Worse, these increases — more of today's children becoming nearsighted at an earlier age — threaten to eventually saddle more of them with high myopia, extreme nearsightedness that may lead to serious vision-threatening conditions later in life.
Experts agree that it needn't be this way.
"There are things that all families can do for free and that I recommend for all children to combat juvenile myopia," Lee says.
Her recommendations include encouraging and enabling children to spend more time outdoors and less time indoors — a circumstance made worse if children are focused on close-up work, including interacting with electronic devices.
Nature or Nurture?
Already the most common refractive problem worldwide, childhood myopia's relatively fast increase — over five decades, Lee says, rather than gradually over hundreds of years — points to the environment, rather than heredity, as the cause.
"In childhood myopia, genetics figure in, but they explain only about 10 percent of the condition, while 90 percent is explained by the environment," says a leading myopia researcher, Rafael Iribarren, MD, an ophthalmologist in Buenos Aires, Argentina, and an International Myopia Institute ambassador.
A growing scientific consensus points to one contributing factor in particular: fewer childhood hours spent in regular outdoor play and, correspondingly, increased time devoted to classroom study and close-up reading and writing. When this combination includes poor indoor lighting and, some experts add, too little exposure to sunlight, it allows few opportunities for developing eyes to "exercise" — to practice adjusting to different distances and conditions. The eyes' ability to maintain sharp focus at various distances diminishes as a result. The process is akin to muscle loss in limbs immobilized for long periods.
In the United States, the substitution of indoor for outdoor recreation was hastened by the popularity of electronic games and devices; it was magnified as technology and electronics improved. The Oregon Health and Science University's Casey Eye Institute notes that myopia in the United States subsequently soared close to 42 percent of the population in the early 2000s, up from about 25 percent of the population in the early 1970s.
What You Need to Know About Myopia
Most people know myopia as an inability to clearly distinguish distant objects. The condition usually begins in childhood, worsens through adolescence, and stabilizes during young adulthood.
Very young children initially, albeit briefly, experience some degree of hyperopia or farsightedness, which blurs close-up objects under some conditions. This tends to disappear with age. (The farsightedness that affects near vision during middle age, called presbyopia, results from the eyes' lenses losing elasticity.)
After that, childhood myopia usually results from an overly curved cornea (the eye's transparent refractive and protective outer layer), a lens dysfunction, or the over-lengthening of the eye, with the latter being the most common presentation. The lengthening eye extends the distance light travels from the cornea to the image-sensing retina at the interior back of the eye. Unable to complete the journey, the focused rays of distant objects fall short of the retina, rendering faraway sights blurry and indistinct. Nearby objects remain clearer.
Anecdotal reports suggest that the process can be self-perpetuating, as youngsters who can see close-up objects more clearly than those farther away tend to favor those kinds of tasks, further contributing to the altering of their eyes' shape.
Glasses, contact lenses, and surgical treatments can coax light back to its optimal focal point on the retina, allowing for clear vision. But with these correctives, the eyes don't necessarily stop growing. "This growth is directed by cells that are in the sidewall of the eye, the area of peripheral vision around the central axis of the retina, which traditional glasses or contacts bypass," says Lee.
Research is underway to better understand the lengthening processes and to find new devices, approaches, medications, and treatments that may one day help slow or halt the eyeball's reshaping and worsening nearsightedness.
The Importance of Diagnosing Myopia Early in Children
High myopia is nearsightedness that exceeds -6.0 diopters (a diopter is the unit used to measure the corrective focusing power of the lens). Without optical correction, this extreme form of myopia is equivalent to 20/200 vision, where an individual positioned 20 feet away from a conventional eye chart can distinguish only the top line — usually a large, lone letter "E." Early myopia at that level is a prescription for later trouble.
The American Academy of Ophthalmology (AAO) predicts "significant increases globally" of high myopia, turning what was once a relatively rare condition into a vision limitation projected to affect almost one billion young people across the world.
"These are the kids who we, as pediatric ophthalmologists, are most concerned about: those in the first grade who are already at -2.0 diopters of correction (between -1.00, or about 20/50 vision, and -3.0 or 20/300 vision)," Lee says. "These children will show some additional progression throughout childhood."
As they age, highly myopic children face a far greater chance of developing choroidal neovascularization, a vision-threatening growth of new blood vessels within the eye, and myopic traction maculopathy, a thickening of the macula that can threaten eyesight, conditions highlighted in a study published in 2017 in PLOS One.
A risk-benefit analysis of slowing myopia progression, published in 2021 in Ophthalmology (PDF), is among a number of studies noting that highly myopic youngsters are also more prone to glaucoma (death of retinal nerve fibers responsible for transmitting visual information to the brain), some types of cataracts (clouding of the lens), and retinal detachment (separation of the cells of the vision-sensing retina from the eye's interior wall).
Those are just the physical manifestations of nearsightedness. When poor vision isn't recognized and addressed early, youngsters can face developmental lags that affect their schoolwork, speech, and socialization.
What Parents, Schools, and Others Can Do
The encouraging news is that childhood myopia appears to be more amenable to early prevention and intervention than other sight-altering ailments. Among those interventions are the following:
Increase outdoor time. Simply being outside may have preventive power. For example, in a randomized controlled study reported in the August 2018 issue of Ophthalmology, researchers found that the more time schoolchildren spent outdoors, the less vision correction they required. And a review article in the March 2020 issue of Retina found a "marked rise in high myopia" among youngsters in China ages 3 to 19 who live in urban settings, compared with rural areas. Presumably, the rural populations spend more time outside.
Limit close-up or near work. The AAO found that while genetics and environmental factors influence myopia's development, the most recent upswing in cases can be attributed primarily to environmental influences. Specifically, the AAO says the combination of less time outdoors and more time on near-work activities increases the risk of myopia. Dr. Iribarren strongly agrees, citing the strain induced by prolonged use of printed materials or electronic screens. "If a child reads books with black letters on a white background for long periods or stays on an iPhone for eight hours a day, they might become myopic," he says.
Viola Kanevsky, OD, president of the New York State Optometric Association, says that extended close-range viewing forces the vision system, which evolved to allow scanning of intermediate and farther distances for threats, to alter its natural shape and better accommodate the "desire" to view objects up close. That leaves what's farther away harder to see.
Dr. Kanevsky would remind adults that while reading and study are obviously essential to children's education, so are frequent breaks, periods of longer-distance viewing, and, again, abundant outdoor exposure.
Improve indoor illumination. Among research supporting this recommendation is a study in the January 2022 issue of Asia Pacific Journal of Ophthalmology. In it, Iribarren and colleagues describe a connection between better indoor light intensity in 27 Israeli nursery schools (comprising 1,596 children ages 4 to 5) and "hyperopic refractions" that encourage the eye to shorten, rather than lengthen. Shortened eyes generally deliver better distance vision than elongated ones.
The finding is a central theme of "daylighting" advocates, who recommend bathing indoor learning spaces in natural light and outside views. Daylighters favor abundant windows, skylights, and glass doors in school environments.
Enforce breaks. Ensuring that children move around and take the "long view" can help preserve healthy vision. The 20-20-20 rule helps, too. "After every 20 minutes of close work, look 20 feet away for at least 20 seconds to rest your eyes," says Lee.
Gazing into the distance recruits both the central and peripheral vision without overburdening either, she says. Taking in objects located more than 20 feet away also relaxes the focusing lens inside the eye, releasing it from a stressful "flexed" state believed by most experts to advance myopia.
The American Academy of Pediatrics (AAP) recommends that children walk away from their electronic screens for at least 10 minutes each hour. Breaking up screen time, the academy says, battles nearsightedness and diminishes eye fatigue, blurry vision, and dryness.
Practice vision hygiene. While significant screen time may be unavoidable, some things can minimize the harm. The AAP suggests a number of tactics, including limiting nonessential screen time; ensuring that youngsters blink frequently (using timers or other reminders); enforcing the 20-20-20 rule; checking that lighting is bright enough; and positioning a device's screen below the child's line of sight to minimize eye, neck, and back strain.
Schedule regular eye exams. The first eye examination occurs at birth. After that, many children don't have follow-up exams as often as they should, according to an analysis published in the May 2018 issue of Education Week. The authors estimated that almost one-third of youngsters in the United States go without a comprehensive vision screening for several years. By contrast, the AAO recommends an initial vision check as part of a well-child visit to the pediatrician between ages 6 months and 1 year, again between ages 1 and 3, then between 3 to 6 years of age, and regularly beyond that.
If Your Child Is Nearsighted
Here's a quick look at a range of options, some of which may be covered by insurance:
Corrective Eyewear Contact lenses and glasses that bring most children's vision back to 20/20 can be worn by youngsters at any age, although some preschoolers fare better when earpieces feature a sturdy strap to hold specs in place. Contacts are a better option for children who are older than 12 and comfortable inserting, removing, and keeping them clean.
Diluted Atropine Drops Low concentrations of this drug — similar to the drops used to dilate eyes during routine exams — can help slow nearsightedness in most children. Among the studies that confirm their effectiveness is a report published in the June 2018 issue of Eyethat studied a daily eye-drop solution of just 0.02 percent or 0.01 percent atropine. Researchers aren't certain why this highly diluted substance is so effective. Some speculate, for example, that it blocks growth receptors that trigger eye lengthening. On its EyeSmart website, the AAO recommends that parents speak with pediatric eye specialists if their children have myopia or are suspected to have myopia (e.g., they have problems seeing at far distances) and that, depending on the diagnosis, parents discuss the use of low-dose atropine.
Multifocal Contact Lenses Some youngsters benefit from customized multifocal contact lenses, not unlike the bifocals that adults wear. These lenses incorporate two concentric circles of correction to collect light from a wider area. The outer ring gathers images from the peripheral portions of the visual field (those at the extreme top, bottom, and sides) and transmits them to the retina, where they effectively cue the eye to stop growing. The inner ring delivers regular prescription correction.
Orthokeratology (Ortho-K) This therapy involves wearing specialized, gas-permeable lenses overnight to flatten the cornea covering the iris and lens. As the child sleeps, the lenses gently nudge the eye into a shape that will change the path light travels to the back of the eye the following day. The eyes revert to their original, uncorrected shape after many hours or when treatment is discontinued. In an Ophthalmic Technology Assessment published in 2019 in Ophthalmology, the treatment was deemed most effective when initiated between ages 6 and 8.
DIMS Spectacles Still being pioneered are spectacles that use Defocus Incorporated Multiple Segments (DIMS) technology. Multiple mini lenses within the peripheral vision portion of eyeglasses redirect incoming light and arrest the lengthening of the eye. Several brands are being evaluated for their ability to slow or stop nearsightedness, but they require further review before being certified safe for youngsters.
Many more strategies are being explored in clinical trials worldwide, raising the possibility that childhood myopia may one day be controllable. For now, the prescription for parents and other adults in children's lives is clear: Ensure that they have plenty of outdoor playtime, build in regular breaks from close-up work, create good interior lighting, and serve up a safe, consistent dose of sunshine.