Zibotentan, Dapagliflozin Combo Further Reduces Albuminuria in CKD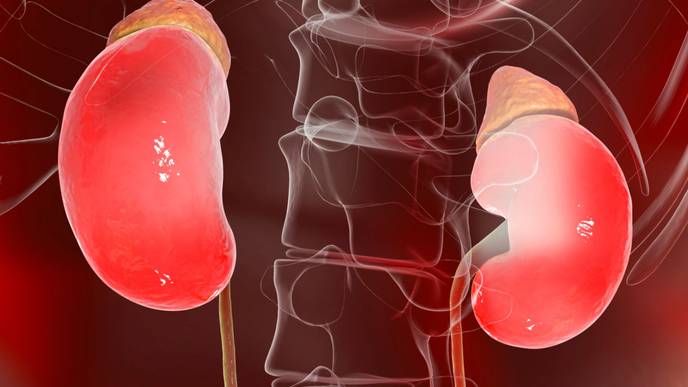 11/08/2023
Zibotentan, a selective endothelin A receptor antagonist, may further reduce albuminuria in patients with chronic kidney disease (CKD) when added to sodium-glucose co-transporter 2 (SGLT2) inhibitor therapy. Investigators reported efficacy and safety results from the ZENITH-CKD trial at the American Society of Nephrology's Kidney Week 2023 meeting in Philadelphia, Pennsylvania and concurrently in The Lancet.
"These results indicate that zibotentan is an attractive option to reduce CKD progression in patients already optimally managed with therapy including SGLT2 inhibitors," said Hiddo Lambers Heerspink, PhD, PharmD, of University Medical Center Groningen in The Netherlands.
In the international phase 2b clinical trial (ClinicalTrials.gov, NCT04724837), the investigators randomly assigned 447 patients to 10 mg dapagliflozin with and without zibotentan (0.25 mg or 1.5 mg) once daily on top of maximally tolerated renin-angiotensin-aldosterone system (RAAS) inhibitors. At baseline, patients had a urinary albumin-to-creatinine ratio (UACR) of 150-5000 mg/g and were required to have an estimated glomerular filtration rate (eGFR) of at least 20 mL/min/1.73m2. Median blood pressure at baseline was approximately 137/79 mm Hg.
Over 12 weeks, UACR declined by a significant 27.0% and 33.7% in the low-dose and high-dose zibotentan-dapagliflozin combination group, respectively, compared with dapagliflozin monotherapy, Dr Heerspink's team reported. Diabetes status or an eGFR less than 45 mL/min/1.73m2 did not alter these results. Albuminuria levels returned to baseline values 2 weeks after discontinuation of the medication.
---
Continue Reading
Zibotentan combination therapy also further reduced systolic (-3.6 and -7.6 mm Hg at the low and high dose, respectively) and diastolic blood pressure (-3.0 and -5.4 mm Hg, respectively) compared with dapagliflozin monotherapy. Zibotentan combination therapy showed larger reductions in LDL cholesterol.
Fluid retention occurred at a significantly higher rate in the high-dose zibotentan combination group, but not in the low-dose group compared with dapagliflozin monotherapy: 3% vs 1% vs less than 1%, respectively. Modest increases in B-type natriuretic peptide, bodyweight, and total body water, as proxies for fluid retention, were observed in the zibotentan 1.5 mg group, but not the 0.25 mg group.
The phase 3 ZENITH High Proteinuria trial (Clinicaltrials.gov, NCT06087835) will investigate long-term efficacy and safety of zibotentan in patients with a UACR exceeding 700 mg/g or a UPCR exceeding 1000 mg/g, Dr Heerspink announced.
In an accompanying editorial, Neeraj Dhaun, MBChB, PhD, and Gavin Brian Chapman of the University of Edinburgh in the UK discussed the optimal use of endothelin antagonism in CKD, noting that "it remains unclear whether sequential RAAS, SGLT2, and endothelin inhibition, using either a selective endothelin A or mixed endothelin A and endothelin B approach, might be as effective (but more cost-effective) an approach, which can only be answered in head-to-head clinical trials," they wrote.
Some other endothelin receptor antagonists being studied include sparsentan, atrasentan, and aprocitentan.
Disclosure: This research was supported by AstraZeneca. Please see the original reference for a full list of disclosures.
References
Heerspink HJL, Kiyosue A, Wheeler DC, et al. ZENITH-CKD: A phase 2B study of zibotentan in combination with dapagliflozin and dapagliflozin alone in patients with CKD. Presented at: Kidney Week 2023; November 2-5, Philadelphia, Pennsylvania. Presentation FR-OR112.
Heerspink HJL, Kiyosue A, Wheeler DC, et al. Zibotentan in combination with dapagliflozin compared with dapagliflozin in patients with chronic kidney disease (ZENITH-CKD): a multicentre, randomised, active-controlled, phase 2b, clinical trial. Lancet. Published online November 2, 2023. doi:10.1016/S0140-6736(23)02230-4
Dhaun N, Chapman GB. Endothelin antagonism: stepping into the spotlight. Lancet. Published online November 2, 2023. doi:10.1016/S0140-6736(23)02419-4